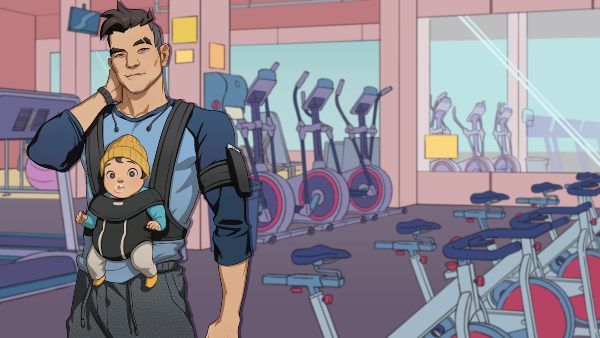 Last Updated on 18 April, 2021
Dream Daddy Craig Answers & Guide – Best choices to max points with Craig, complete all his dates & unlock every achievement
Other dateable dads answers & walkthroughs: Brian, Damien, Hugo, Joseph, Mat, Robert
First Choices
Craig text: Go to the gym
You ready to kick some butt?: With your help, I am (Like)
That's a good question, bro, what do you think he's doing: Training to crush people's skulls with his thighs (Love)
Ah, I keep busy. What do you do for fun: I love learning (Love)
Dream Daddy Craig Answers & Guide – First Date
Ask about…: coaching softball, business or kids (he likes the 3 of them)
So, the moms can hit on me all they want: The right person will come along eventually (Love)
You would be so lucky: I mean… (Love)
You have completed the first Craig's date, ready for the next one?
Dream Daddy Craig Answers & Guide – Second Date
Playground:

Look for clues
Interrogate Joseph > That sounds a little suspect, Joseph
No (yes)
Try to calm River down.
Move to another part of the park

The Field:

Mat and Carmensita
Check out those squirrels > The tree
Look for clues. Find Arnold's leg
Interrogate River > Good Cop

The woods:

Look for clues
Interrogate Robert > Be bad cop
Go deeper into the woods > Yes

The Dinner:

Grimy Brunch > Treat yo'self (Love)
Bougie Brunch
Dream Daddy Craig Answers & Guide – Third Date
Outside: Such a gentleman (Love)
But what if there's a problem: There won't be (Like)
Craig immediately begins taking his clothes off: Look at Craig's butt (love)
You coming or what? Let's put on a show (Like)
You've awakened the beast: Dunk him (Love)
Not so scary now, huh? > I'll race you to the top
Wanna go again > You know it.
Got one more in you > I live for danger
Alright, I think that's my limit > You're right
Give me some moral support: Go overboard with compliments (Love)
Do I, though?: Hell yeah, bro (love)
You have completed the third Craig's date, Have you unlocked all Craig's achievements?
Related Achievements
Dreamiest Daddy: Go on every date with every dad
Keg Stand Champion: Go on all Craig dates.
Other dateable dads answers & walkthroughs: Brian, Damien, Hugo, Joseph, Mat, Robert