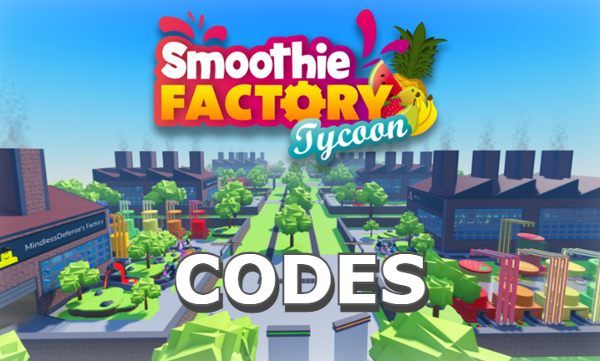 Last Updated on 30 November, 2023
All the valid Smoothie Factory Tycoon Codes in one updated list – Roblox Game by Blend Productions – Redeem these codes for some Items, and more gift to improve
Smoothie Factory Tycoon Codes – Full List
Valid Codes
Redeem these codes for some Items, and more gift to improve
There are currently NO valid codes,
25MVisits – code reward: 10 Blend tokens, 15 minutes of 2x money boost, and 5 Diamond Crates (NEW)
7Rose10KRebirths – code reward: 1 Diamond Crate + 600 Sec Boost
HauntedSmoothie – code reward: Spooky rewards
Thebritishcode – code reward: Metal Crate, 1 Blend Taken, and a 180-second boost
ABX – code reward: 60-second boost
Johan – can be found on discord by selecting the "Development Spectator" role and finding the "developments" channel in the "ranks" category, reward: $25k, Boost 60sec, 2 Blend Tokens, Wooden Crate (thanks to ni3b0rak)
lifeissmoothies – code reward: some freebies (thanks to Purple)
NotThatHard – can be found in "earth" world hard obby ending, reward: wooden podium crate (thanks to Sneaky)
DevPapers – can be found in moon, reward: 120 sec boost and magma crate (thanks to Sneaky)
IceRockSkip – can be found in the ice cavern obby at mars, reward: 1:00 of x2 money (thanks to Adrian)
RedSoilEntry – code reward: some freebies
Springloaded – code reward: some freebies
Imawall – code reward: some freebies
DaveThePodiumMan – code reward: some freebies
There are currently no codes in the game, we will let you know as soon as they are announced and the first one comes out. We hope that it will be in the next few weeks, so we recommend that you visit us from time to time to see if we have updated this article.
We will keep this codes list updated, stay tuned
Smoothie Factory Tycoon social media channels:
Twitter: ??
Discord channel: https://discord.gg/TAMd5a6
Youtube: ??
Join Roblox Group: https://www.roblox.com/games/10905034443/Smoothie-Factory-Tycoon
Group Blend Productions! More Games: https://www.roblox.com/groups/8736530
Smoothie Factory Tycoon Expired Codes
These codes don't work anymore:
Smoothie Factory Tycoon Codes FAQ – How to Redeem?
These are the steps to redeem codes:
Launch Roblox Smoothie Factory Tycoon on your PC or mobile device
No codes button on the on the screen (stay tunned in future)
We will show you codes when Roblox Smoothie Factory Tycoon game show them
See how the youtuber Gaming Dan Redeems these codes in this video:
How to play Smoothie Factory Tycoon? Roblox Game by Blend Productions.
Welcome to Smoothie Factory Tycoon!
Produce Smoothies, Purchase new blenders and expand your factory!
Rebirth and unlock much more!
All progress is saved!
Make sure to like and favorite!
More Roblox Codes – Other Games
Have you enjoyed the codes? Looking for another game's codes? Find them here, more than 300 roblox games with their valid codes updated lists. But check these top games:
Smoothie Factory Tycoon, by Blend Productions., Roblox Game Site > Here