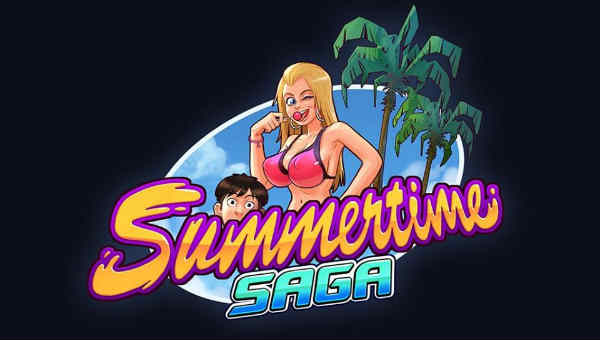 Last Updated on 15 August, 2023
Welcome to Summertime Saga Roxxy – Route & Walkthrough, where we will provide you all the steps to unlock all the scenes available
For other routes, walkthroughs, scenes, characters or endings check our Sumertime Saga Guide
Summertime Saga Roxxy – Requirements
Strength 5, Dexterity 3 and also Charisma 5
Money: 400$ at least
Summertime Saga Roxxy – Walkthrough
First Steps – Roxxy's route
To start find Roxxy in the 3rd floor of the school, wait till next day and spy her talking in the girls locker room
Next day talk with Eve and Kevin at the school, then go to the basketball court and watch Roxxy and Dexter arguing. When you go back to school, Erik tells you that Coach Bridget is waiting you. After going to the courtyard, go to the boys locker room and talk with Becca and Missy for your first scene
Next day go to the french classroom and help Roxxy, the french homework is in your locker. Roxxy will give you her lollipop in exchange
Wait 1 day, go to school and meet Dexter
Next day go to meet Ms Bissete, wail till the evening, go to the trailer park, and check the new location (left side). Go back home and study with Roxxy in your bedroom
Wait 2 days and go to the school hall to meet Roxxy. Then go with her to the trailer, talk with Crystal there, with Clyde (tractor) and complete the shooting minigame. Go to the trailer again, to the bedroom, and wait 1 day
Beach Party – Roxxy's route
Go to the french classroom, then to the basketball court, and then back to the class and talk with Roxxy about drinks. Go to talk with Erik, then to the girls, and go to the new location, The Pier.
Ask Captain Terry about the fake id, go to talk with Roxxy, then meet her at Hillside Mall and take a picture of you both. Go back to the pier ($400) and enjoy the scene.
Go to school, then to the trailer, read the messsage on the door, go to the tractor, come back and talk with Debbie and Roxxy.
In the Police Station, talk with Earl (donut) and with Crystal (basement)
Go to the trailer and talk with Clyde (7 charisma)
Talk to Roxxy (school), and also with Clyde. At the evening go to Roxxy's trailer, and then to the park and talk with Pilly
Meet Roxxy at school and wait 3 days
Talk to Roxxy (Ms Bissette's class), then look for Missy (basketball court), and finally ask Captain Terry (pier) for Goldschwagger Vodka
Saturday afternoon go to the beach and play the bottle game
Go to the french class, and then steal the exams from the Principal Smith's house (left of the school). You will find the exams in the desk of the bedroom, but you need the key (behind the painting)
Next day you will have an scene when you give the exams to Roxxy (school). Next day, after doing something for Ms Dewitt you will see Dexter and Becca, but it doesn't matter for this walkthrough.
Bikini Contest – Roxxy's route
Saturday afternoon go to the beach water, talk with Terry, then go with the girls and follow Roxxy to the changing room. Find the bikini and give it to her. Give her the massage oil also (beach tower), and enjoy
Beat Dexter – Roxxy's route
On monday meet Erik at the school, then go to the courtyard and defeat Dexter (5 Strength)
Next day accept Roxxy's invitation and enjoy
Next day you will have to beat Dexter again, so go to school and play the basketball minigame at the courtyard
And defeat him once more the next day at the school (5 strength and 3 dexterity)
In the evening you will have the final scene with Roxxy
Summertime Saga Roxxy – Bonus scenes
Locker: Next day go to school and have one extra scene
Beach: (requires the locker extra scene), go to play the bottle game and have another extra scene
Crystal: meet Roxxy in the trailer once more, wait one day and go to talk with Crystal during the day