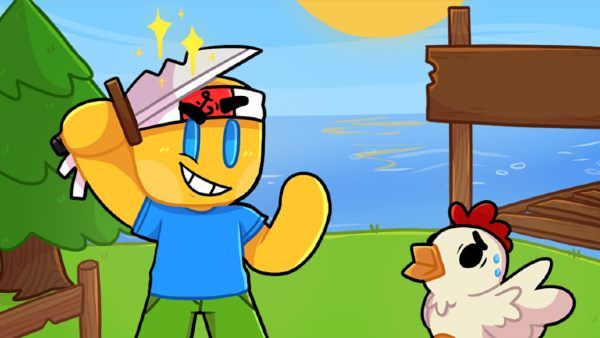 Last Updated on 4 June, 2023
All the valid Egg Farm Simulator Codes in one updated list – Roblox Game by @SirMing – Redeem these codes for exclusive pets, like Curse Bat Dominus, Red Sparkle Red Fedora, Super Glitch Queen…
Egg Farm Simulator Codes – Full List
Redeem these codes for exclusive pets, like Curse Bat Dominus, Red Sparkle Red Fedora, Super Glitch Queen…
Valid & Active Codes
These are all the valid codes
CURSE: Redeem code for > legendary pet Curse Bat Dominus
SPARKLE: Redeem code for > legendary pet Red Sparkle Red Fedora
CROWN: Redeem code for > legendary pet Super Glitch Queen
PINK: Redeem code for > legendary pet Pink Shock Dominus
PLASMA: Redeem code for > legendary pet Blue Shock Dominus
bolt: Redeem code for > legendary pet Green Shock Dominus
BOOST: Redeem code for > 5x bosst of egg, coins, gems and luck
Robzi: Redeem code for > Robzi Robot
Present: Redeem code for > Rainbow Deer
Patriot: Redeem code for > Patriot Puppy
Mythical: Redeem code for > Mythical Candy Dominus
Galaxy: Redeem code for > free reward
6mil: Redeem code for > free reward
Alien: Redeem code for > free reward
Babse: Redeem code for > free reward
Turkey: Redeem code for > free reward
Zombie: Redeem code for > Zombie Sinister
Boo: Redeem code for > Ghost Dominus
Spooky: Redeem code for > Pumpkin King
Ninja: Redeem code for > free reward
Star: Redeem code for > free reward
Moon: Redeem code for > free reward
Comet: Redeem code for > free reward
Gold: Redeem code for > free reward
Stay tuned for more codes
Egg Farm Simulator ROBLOX Social Media Channels
Discord: Ming Media
Twitter: @MingRBLX
Youtube: ??
Roblox Group: https://www.roblox.com/groups/2845692/Ming-Media#!/about
Expired codes
These codes are no longer work:
Leave us a comment if you find more codes, so we can keep the list updated
Egg Farm Simulator Codes – How to Redeem?
Launch Roblox Egg Farm Simulator
Click on the Twitter (Right menu)
Type the code and press Enter to claim your gifts. To avoid errors it is better that you copy and paste the codes directly from our list, since we have already tested them
Enjoy your rewards
Here you can learn to redeem codes (video by youtuber Gaming Dan)
How to play Egg Farm Simulator? Roblox Game by @SirMing
New code coming soon!
Collect and battle with your favorite characters from different shows!
Upgrade your characters and overcome greater challenges!
Shop resets every hour!
Battle against your friends and other players in PvP!
Earn trophies through PvP and become the best!
More updates coming soon.
More Roblox Codes – Other Games
Have you enjoyed the codes? Looking for another game's codes? Find them here, more than 300 roblox games with their valid codes updated lists. But check these top games:
Egg Farm Simulator, by @SirMing > Here