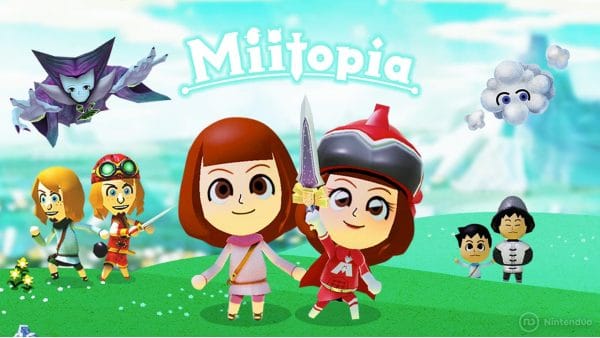 Last Updated on 28 February, 2023
Miitopia Access Key Codes – Add your favorite characters from video games, anime, movies and series and turn them into Miis
How to add Mii Characters?
You need a Nintendo Switch Online subscription to use this function: Code =
Select Mii characters on the main screen.
Choose Add Mii characters.
Pick Receive.
When the game asks Receive from whom, select Access key.
Enter the character code.
Choose the Mii to be downloaded.
Select Receive.
Ace Attorney Miitopia Access Key Codes
Gumshoe Mii: Code = 59PF318
Godot Mii: Code = 3XPNM03
Edgeworth Mii: Code = 3XPNM03
Phoenix Mii: Code = 3XPNM03
Adventure Time Miitopia Access Key Codes
LSP Mii: Code = 3H51D86
Bubblegum Mii: Code = 3H51D86
Marceline Mii: Code = 3H51D86
Finn Mii: Code = 3H51D86
Flame Princess Mii: Code = 3H51D86
Jake Mii: Code = 3H51D86
Huntress W Mii: Code = 33BHP31
Aggretsuko Miitopia Access Key Codes
Haida Mii: Code = 3H51D86
Tadano Mii: Code = 7F6HKD3
Among Us Miitopia Access Key Codes
Red Crewmate Mii: Code = 7W0XJ2H
Green Crewmate Mii: Code = 7W0XJ2H
White Crewmate Mii: Code = 7W0XJ2H
Black Crewmate Mii: Code = 7W0XJ2H
Bee and Puppycat Miitopia Access Key Codes
Puppycat Mii: Code = 1JFL16P
Bee Mii: Code = 1JFL16P
Cells at Work Miitopia Access Key Codes
Cancer Mii: Code = 33BHP31
Platelet Mii: Code = 33BHP31
White Blood Cell Mii: Code = 33BHP31
Red Blood Cell Mii: Code = 33BHP31
Danganronpa Miitopia Access Key Codes
Kanade Otonokoji Mii: Code = 7F6HKD3
Monokuma Mii: Code = 7F6HKD3
Kazuichi Soda Mii: Code = 7F6HKD3
Ibuki Mioda Mii: Code = 7F6HKD3
Tsumugi Shirogane Mii: Code = 7F6HKD3
Demon Slayer Miitopia Access Key Codes
Tanjiro Mii: Code = 3XPNM03
Rengoku Mii: Code = 3XPNM03
Nezuko Mii: Code = 6B10GN8
Dragon Ball Miitopia Access Key Codes
Goku Mii: Code = 6B10GN8
Krillin Mii: Code = 6B10GN8
Piccolo Mii: Code = 6B10GN8
Dragon Maid Miitopia Access Key Codes
Tohru Mii: Code = 6HVT0YM
Kanna Mii: Code = 6HVT0YM
Elma Mii: Code = 6HVT0YM
Kobayashi Mii: Code = 6HVT0YM
Quetzalcoatl Mii: Code = 6HVT0YM
Ducktales Miitopia Access Key Codes
Louie Mii: Code = 33BHP31
Dewey Mii: Code = 33BHP31
Huey Mii: Code = 33BHP31
Webby Mii: Code = 33BHP31
Eizouken Miitopia Access Key Codes
Asakusa Mii: Code = 1JFL16P
Mizusaki Mii: Code = 1JFL16P
Kanamori Mii: Code = 1JFL16P
Final Fantasy Miitopia Access Key Codes
Aerith Mii: Code = 7W0XJ2H
Tifa Mii: Code = 7W0XJ2H
Cloud Mii: Code = 7W0XJ2H
Genshin Impact Miitopia Access Key Codes
Paimon, Hilichurl, and Barbara Mii: Code = 260XWNY
Diluc and Kaeya Mii: Code = BF4F3P
Childe Mii: Code = 4DCVBGB
Zhongli Mii: Code = 8BLWLDN
Xiao, Diona, and Hu Tao Mii: Code = XX7RPJ
Gurren Lagann Miitopia Access Key Codes
Nia Teppelin Mii: Code = 15PCK1L
Yoko Littner Mii: Code = 15PCK1L
Hades Miitopia Access Key Codes
Dusa Mii: Code = 3XPNM03
Artemis Mii: Code = 33BHP31
Harui Suzumiya Miitopia Access Key Codes
Churuya Mii: Code = 15PCK1L
Tsuruya Mii: Code = 15PCK1L
Haruhi Suzumiya Mii: Code = 15PCK1L
Homestuck Miitopia Access Key Codes
Satsuki Mii: Code = 5LH4GTF
Ryuko Mii: Code = 5LH4GTF
Eridan Mii: Code = H9KWXG
Equius Mii: Code = H9KWXG
Kanaya Mii: Code = H9KWXG
Gamzee Mii: Code = H9KWXG
Nepeta Mii: Code = H9KWXG
Aradia Mii: Code = H9KWXG
Terezi Mii: Code = H9KWXG
Karkat Mii: Code = H9KWXG
Feferi Mii: Code = H9KWXG
Vriska Mii: Code = H9KWXG
Kill la Kill Miis
Satsuki Mii: Code = 5LH4GTF
Ryuko Mii: Code = 5LH4GTF
Kirby Miis
Morpho Mii: Code = 7DB3FWC
Rick Mii: Code = 77DB3FWC
Kine Mii: Code = 7DB3FWC
Coo Mii: Code = 7DB3FWC
Kirby Mii: Code = 7DB3FWC
Legend of Zelda Miis
Ganondorf Mii: Code = 7W0XJ2H
Tetra Mii: Code = 7W0XJ2H
Link Mii: Code = 4P5DMXC
Zelda Mii: Code = 4P5DMXC
David Jr. Mii: Code = 7W0XJ2H
Knuckle Mii: Code = 7W0XJ2H
Ankle Mii: Code = 7W0XJ2H
Tingle Mii: Code = 7W0XJ2H
Tingle 2 Mii: Code = 7W0XJ2H
Mario Miis
Mario Mii: Code = 7W0XJ2H
Luigi Mii: Code = 7W0XJ2H
Wario Mii: Code = 7W0XJ2H
Waluigi Mii: Code = 7W0XJ2H
Bowser Mii: Code = 7W0XJ2H
Toad Mii: Code = 1NBTC4W
Rosalina Mii: Code = 15PCK1L
Minecraft Miis
Steve Mii: Code = VYNR97
Herobrine Mii: Code = VYNR97
Mob Psycho Miis
Reigen Mii: Code = 7W0XJ2H
Mob Mii: Code = 7W0XJ2H
Moomin Miis
Snufkin Mii: Code = 5PHXFR0
Little My Mii: Code = 5PHXFR0
Groke Mii: Code = 5PHXFR0
Stinky Mii: Code = 5PHXFR0
Moomin P. Mii: Code = 5PHXFR0
Moomin T Mii: Code = 5PHXFR0
Too-Ticky Mii: Code = 5PHXFR0
Mymble Mii: Code = 5PHXFR0
Sniff Mii: Code = 5PHXFR0
Snork Mii: Code = 5PHXFR0
S. Maiden Mii: Code = 5PHXFR0
Moomin M. Mii: Code = 5PHXFR0
Mother Earthbound Miis
Kumatora Mii: Code = 7W0XJ2H
Lucas Mii: Code = 7W0XJ2H
Nickelodeon Miis
Spongebob and Patrick Mii: Code = 74DRY2J
Squidward Mii: Code = 5TCM5P6
Danny Fenton Mii: Code = 2RMMHF5
Jimmy Neutron, Mr. Neutron, and Carl Mii: Code = 2332FBT
Aang Mii: Code = 251JB92
Katara Mii: Code = 33BHP31
Zuko Mii: Code = 7TXP41G
OK KO Miis
Kaio Kincaid Mii: Code = 7W0XJ2H
Professor Venomous Mii: Code = 3XPNM03
Boxman Mii: Code = 3XPNM03
Persona Miis
Sadayo Kawakami Mii: Code = 15PCK1L
Rise Mii: Code = 15PCK1L
Yukiko Mii: Code = 15PCK1L
Makoto Nijima Mii: Code = 15PCK1L
Ryuuji S. Mii: Code = 33BHP31
Yosuke Mii: Code = 33BHP31
Pokemon Miis
Matt Mii: Code = VYNR97
Archie Mii: Code = VYNR97
Wally Mii: Code = 1NBTC4W
James Mii: Code = 1NBTC4W
Jessie Mii: Code = 1NBTC4W
Whimsicott Mii: Code = 3RVHRGR
Smogmella Mii: Code = 3RVHRGR
Gastly Mii: Code = 3RVHRGR
Gothorita Mii: Code = 3RVHRGR
Jynx Mii: Code = 3RVHRGR
Diglett Mii: Code = 3RVHRGR
Jigglypuff Mii: Code = 3RVHRGR
Torchic Mii: Code = 7DB3FWC
Sableye Mii: Code = 33BHP31
Braixen Mii: Code = 33BHP31
Zeraora Mii: Code = 33BHP31
Emolga Mii: Code = 33BHP31
Mawile Mii: Code = 33BHP31
Furret Mii: Code = 33BHP31
Masquerain Mii: Code = 33BHP31
Gallade Mii: Code = 33BHP31
Roseraid Mii: Code = 33BHP31
Ditto Mii: Code = 7W0XJ2H
RWBY Miis
Ruby Mii: Code = 5VFRX47
Blake Mii: Code = 5VFRX46
Yang Mii: Code = 5VFRX45
Weiss Mii: Code = 5VFRX44
Scott Pilgrim Miis
Ramona (Blue Hair) Mii: Code = 7W0XJ2H
Kim Mii: Code = 7W0XJ2H
Nega Scott Mii: Code = 7W0XJ2H
Scott Mii: Code = 7W0XJ2H
Ramona (Green Hair) Mii: Code = 7W0XJ2H
Ramona (Pink Hair) Mii: Code = 7W0XJ2H
Sonic Miis
Metal Sonic Mii: Code = 7W0XJ2H
Eggman Mii: Code = 7W0XJ2H
Shadow Mii: Code = 7W0XJ2H
Blaze Mii: Code = 7W0XJ2H
Rouge Mii: Code = 7W0XJ2H
Sonic Mii: Code = 7W0XJ2H
Spider Man Miis
Peni Mii: Code = 7W0XJ2H
Kingpin Mii: Code = 7W0XJ2H
Gwen Mii: Code = 7W0XJ2H
Peter B. Mii: Code = 7W0XJ2H
Miles Mii: Code = 7W0XJ2H
Splatoon Miis
Pearl Mii: Code = 4P5DMXC
Marie Mii: Code = 4P5DMXC
Callie Mii: Code = 4P5DMXC
Marina Mii: Code = 4P5DMXC
Undertale Miis
Mettaton Mii: Code = 3XPNM03
Temmie Mii: Code = 3RVHRGR
Sans Mii: Code = 3RVHRGR
Muffet Mii: Code = H9KWXG
Alphys Mii: Code = H9KWXG
Undyne Mii: Code = H9KWXG
Sans Mii: Code = 6B10GN8
Zombieland Miis
Junko Konno Mii: Code = 6HVT0YM
Sakura Minamoto Mii: Code = 6HVT0YM
Ai Mizuno Mii: Code = 6HVT0YM
Saki Nikaido Mii: Code = 6HVT0YM
Other Series Miis
Ankha Mii: Code = 5LH4GTF
Detective Conan Mii: Code = 6B10GN8
Donkey Kong Mii: Code = 6HVVWD7
Doraemon Mii: Code = 6B10GN8
Emily Mii: Code = 3RVHRGR
Grunkle Ford Mii: Code = 1NBTC4W
Kiki Mii: Code = 15PCK1L
King Dice Mii: Code = 33BHP31
Lio Mii: Code = 3XPNM03
M. Foster Mii: Code = 1NBTC4W
Master Chief Mii: Code = 15PCK1L
Miku Mii: Code = 3XPNM06
Peter Griffin Mii: Code = 7W0XJ2H
Lois Griffin Mii: Code = 6081Y5W
Rapunzel Mii: Code = 15PCK1L
Shin-chan Mii: Code = 2PNHJ0H
Wilson Mii: Code = 33BHP31
Boba Fett Mii: Code = 4GH3KT
Bobby Hill Mii: Code = 2GRKKC1
Cacodemon Mii: Code = 8HDMV76