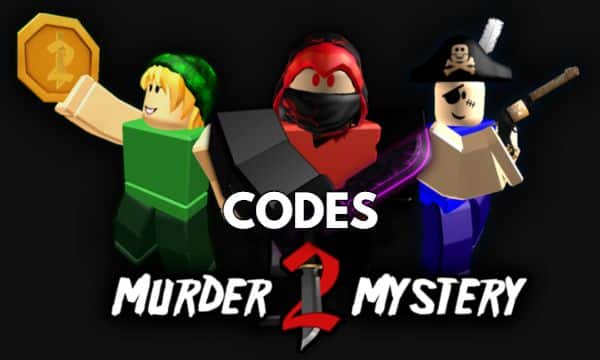 Last Updated on 22 November, 2023
¿Are you looking for Updated MM2 or Murder Mystery 2 Codes? Check this guide, where we provide you all the valid & active codes for the game
Murder Mystery 2 Codes Roblox – Full List
MM2 Valid & Active Codes
There are currently no active codes
no codes available, stay tuned: Use this code to earn some freebies
We will update this list as soon as new codes become available
MM2 Expired codes
These codes are no longer active in the game:
COMB4T2: Use this code to earn a free Combat II knife
AL3X: Use this code to earn a free purple knife
SUBo: Use this code to earn a free green knife
D3NIS: Use this code to earn a free dark blue knife
CORL: Use this code to earn a free blue knife
SK3TCH: Use this code to earn a free orange knife
PRISM: Use this code to earn a free silver knife
As you can see there were 6 knifes waiting for you in Murder Mystery 2 or MM2
You can also visit MM2 Value List, and the Script Pastebin Hacks
Murder Mystery 2 Codes Roblox – Videoguide
To redeem the codes in MM2 > Inventory > lower right corner > then just type them correctly and claim your reward by clicking on redeem. As you can see in this video from the youtuber Gaming Dan
How to Play Murder Mystery 2 or MM2, by Nikilis?
The game introduces two new powers, Trap and Sprint, adding more depth to its gameplay. Players are tasked with solving a mystery and surviving each round. The roles and objectives in the game are clearly defined:
Innocents: Their goal is to evade the Murderer and use detective skills to identify them.
Sheriff: This player supports the Innocents and is equipped with a weapon to take down the Murderer.
Murderer: The objective is to eliminate all players without being caught by the Sheriff.
Game offers a rich collection aspect:
Knife Collection: Players can collect and trade hundreds of knives, adding a collectible element to the game.
Players are encouraged to engage with the game's community through various social media platforms for updates, exclusive news, and free knife codes:
Community Engagement: Follow the game on Twitter (@NikilisRBX) and YouTube (Nikilis) for the latest updates and rewards.
Mystery Game, Survival, Detective Skills, Knife Trading, Multiplayer Game, Online Gaming, Social Engagement, Free Codes, Collectibles, Interactive Gameplay.
More Roblox Codes – Other Games
If you want other Roblox Games Codes, check this list, or find it in the full list of Roblox Games, here