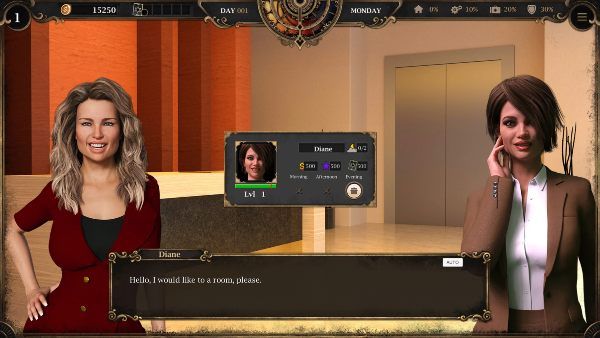 Last Updated on 23 November, 2022
Mystwood Manor Walkthrough & Guide – Learn how to unlock everything (staff, rooms, customers, events), earn money, the correct answers…
Mystwood Manor Walkthrough – Staff
Unlock new Staff members
Unlock new staff members as soon as you can. Click on the staff button and check what you need to unlock each character. You can unlock Amber on day 2, do it check what you need and learn how to unlock the rest.
Progress with Staff members
Click on the portrait of each staff member, and then go to the Progress tab to check what do you need to unlock new events. You will see some numbers (1-1, 2-2, 3-3) the first number is the Hotel reputation level, and the second is the Staff level. To increase the hotel level complete customers, to increase staff level you have to level up the 3 skills.
Mystwood Manor Walkthrough – Customers
How to get customers? Just place Julia in the Lobby
How to level up customers? Level up the hotel reputation by completing customers requirements
Customers Progress: You can only progress with Orville Nestor, but you can't get the reward, because the 5th event is under development
How increase the number of customers? Unlock new rooms in the 2nd floor when you level up the hotel reputation
Mystwood Manor Walkthrough – Answers
Level 1 and also Level 2 answers are very easy, so we start from level 3 answers:
Level 3 Answers
Kitchen & Restaurant:

English breakfast: Beans
French breakfast: Croissant
Asian breakfast: Spring rolls
Italian food: Lasagna
French food: Ratatouille
English food: Cottage Pie

Spa:

Relaxing Massage: Swedish
Relieve tension: Deep…
Stretch my body: Thai

Gym:

Legs & Arms: Lifting weights
Endurance: Cardio
Posture: Strengthening your core

Bar:

Red wine: Merlot
White wine: Sauvignon Blanch
Champagne: Brut

Sauna:

Without steam: Traditional
water boiled: Steam room
with lights: Infrared
Level 4 Answers
Kitchen & Restaurant:

Colombian breakfast: Changua
the other: Pannkakor
Polish breakfast: Jajecznica
Indonesian food: Nasi Goreng
Indian food: Biryani
Japanese: Tempura

Spa:

Japanese: Amatsu
Hawaiian: LomiLomi
Indian: Champissage

Gym:

Endurance: High Reps
Muscle Mass: Low Reps
Condition: Cardio

Bar:

Tequila: Margarita
Vodka: Cosmopolitan
Rum: Mai Tai

Sauna:

Hot & low: Traditional
Humidity: Traditional
the other: Traditional

Pool:

Chest, back & lat: Breast
The other: Back
Core & upper: Butterfly
More Cheats & Walkthrough