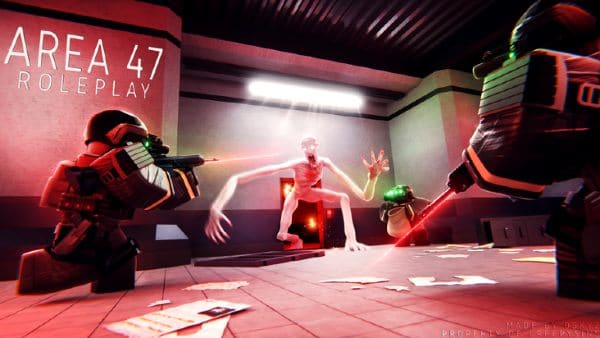 Last Updated on 30 September, 2021
All the valid Area 47 Codes in one updated list – Roblox Games by Special Containment Procedures Foundation [SCPF] – Redeem these codes to help you defend the facility from terrifying creatures
Area 47 Codes – Full List
Redeem these codes to help you defend the facility from terrifying creatures
Valid & Active Codes
These are all the valid codes
75KLIKES – Redeem this code for 750 free credits (New)
LUCA – Redeem this code for 50 free credits
NEOSTANT – Redeem this code for 50 free credits
RELEASE – Redeem this code for 500 free credits
Release is the first code, but there will be more soon, just make sure to like the game, and the creators will release new codes as a reward to the players Then come back here and check if we have updated the list
Area 47 Social Media Channels
Discord: Area 47
Twitter: @CreepySins & @PlayArea47
Youtube: ??
Roblox Group: https://www.roblox.com/groups/2760782/Special-Containment-Procedures-Foundation-SCPF#!/about
Do you miss any code in the list? leave us a comment and we will update it giving you credits
Expired codes
There are currently no expired codes
Area 47 Codes – How to Redeem?
Click on play, select your character, click on play again, click on the shop icon (left menu), and enter the codes under the store items, in the new window (codes are not case sensitive)
Here you can learn to redeem codes (video by youtuber Gaming Dan)
How to play Area 47? Roblox Game by Special Containment Procedures Foundation [SCPF]
Use code(s) "RELEASE" for 500 credits! (New code at 75k likes!)
Area-47 is an underground facility that contains anomalous objects that defy the laws of human nature. Play today as a scientist, security team member, or be a member of the anti-foundation Chaos Insurgency! Raid warehouses, protect the facility, or roam around the vast sewers.
Want to learn more about the Foundation, and get some special ingame perks? Join our group!
https://www.roblox.com/groups/2760782/SCPF
Rules: https://devforum.roblox.com/t/scpf-area-47-rules/270250
More Roblox Codes – Other Games
Have you enjoyed the codes? Looking for another game's codes? Find them here, more than 300 roblox games with their valid codes updated lists
Area 47, by Special Containment Procedures Foundation [SCPF] > Here