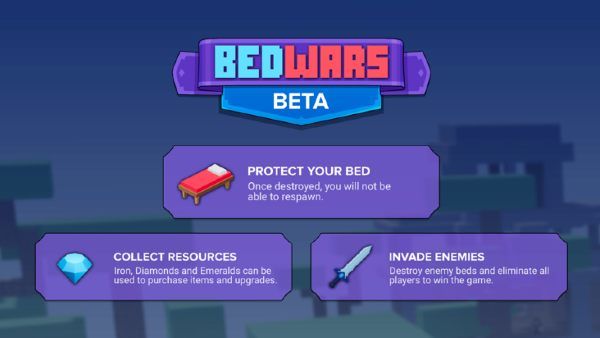 Last Updated on 7 September, 2022
All the valid BedWars Codes in one updated list – Roblox Games by Easy.gg – Protect your bed and invade enemies using these free gift codes
BedWars Codes – Full List
Protect your bed and invade enemies using these free gift codes
Valid & Active Codes
Currently valid codes
U24D – Redeem this code and claim > some rewards (New)
Easy.gg are also the developers of Islands, another popular Roblox game, and in which they have chosen not to include codes. So at the moment we don't have much hope for his latest work, Bedwars. But if they end up changing their mind, and decide to implement the codes, through this page you will be the first to know
Anyway, you can also redeem the Roblox Promocodes
BedWars Social Media Channels, where they announce new codes:
Twitter: @RobloxBedWars
Discord: Bedwars
Youtube: ??
Roblox Group: https://www.roblox.com/groups/5774246/Easy-gg#!/about
BedWars Expired codes
There are no expired codes so far, but there are no valid ones either
BedWars Codes – How to Redeem?
In this section you can consult any questions about the redemption system and the steps to redeem
Here, in this video tutorial, you can learn to redeem codes (video by youtuber Gaming Dan)
How to play BedWars? Roblox Game by Easy.gg
Welcome to the BedWars beta release!
We will be updating the game daily during Beta. Report any issues on twitter and the community server!
Controls:
[Shift]: Sprint
[E]: Open inventory
[Q]: Drop item
[Ctrl]: Lock camera
How to play BedWars:
Join the "BedWars" queue in the Lobby to find a match
Protect your bed. Once it's gone, you can no longer respawn!
Gather resources to purchase items and team upgrades
Destroy enemy beds and eliminate players to win the match!
Also check the Kits guide, Controls, Commands, and the Script Pastebin Hacks
If you've played SkyWars before, you'll pickup BedWars in no time!
More Codes – Other Games
Have you enjoyed the codes? Looking for another game's codes? Find them here, more than 300 roblox games with their valid codes updated lists
BedWars, by Easy.gg > Here