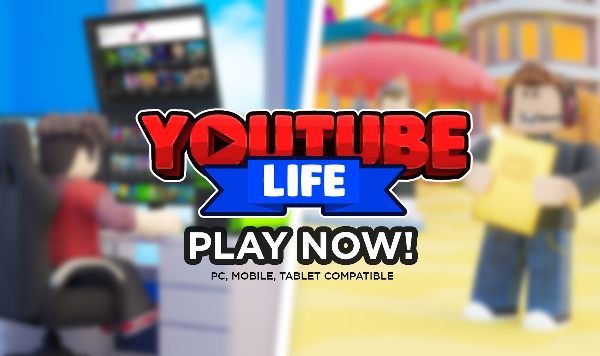 Last Updated on 10 September, 2023
All the valid Roblox YouTube Life Codes in one updated list – Roblox Games by Play! Studios – Redeem these codes for subscribers, coins, items, boosts and other in-game rewards
Roblox YouTube Life Codes – Full List
Redeem these codes for subscribers, coins, items, boosts and other in-game rewards
Valid & Active Codes
These are all the valid codes
300KLikes: Redeem Code > 1.500 Subscribers
100MVISITS: Redeem Code > Trophy
200KLIKES: Redeem Code > Boosts
Editors: Redeem Code > Boosts
1MYoutubers: Redeem Code > Boosts
100KLIKES: Redeem Code > Boosts
50KLIKES: Redeem Code > Boosts & Cash
KlondixeBar100T: Redeem Code > freebies
Carbon: Redeem Code > freebies
Matsbxb: Redeem Code > freebies
OMB: Redeem Code > freebies
Bramp: Redeem Code > freebies
Seniac: Redeem Code > freebies
Solo: Redeem Code > freebies
Baxtrix: Redeem Code > freebies
iSightsTrue: Redeem Code > freebies
Roblox RoTube Life Codes – More
10KLIKES: Redeem Code > 100 Gems & Video Boost
Russo: Redeem Code > Russo Code Award
3KLIKES: Redeem Code > OP video boost
1KLIKES: Redeem Code > 1k subs and a video boost!
RELEASE: Redeem Code > 5k Cash
More codes and gifts soon, stay tuned, we will add new codes to the list as soon as available
Roblox YouTube Life! Social Media Channels
Discord: https://discord.gg/Z552Xm4MQb
Twitter: @PlayStudiosRBX
Youtube: Matsbxb > https://www.youtube.com/channel/UCbbi3poAjmvGbfo1F1zZHRw
Roblox Group: https://www.roblox.com/games/8982709021/YouTube-Life-NEW
Leave us a comment if you find more working codes, we will add them to the list giving you credits
Expired codes
There are currently no expired codes
Roblox YouTube Life Codes – How to Redeem?
Launch and start YouTube Life! > Click on the Settings button (Right down Menu) > Enter Code in "Redeem a code" > Press Enter > Enjoy your YouTube Life! freebies
Here you can learn to redeem codes (video by youtuber Gaming Dan)
How to play Roblox YouTube Life!? Roblox Game by Play! Studios
Welcome to YouTube Life!!
In this game your goal is to gain as many subscribers as you can and become the biggest youtuber in the world!
Record, Edit and Upload videos
Start vlogging
Upgrade your setup
Decorate and upgrade your house
Open chests and unlock upgrades
Fight the robot boss
Gain millions of subscribers!
Win awards
How to Play:
Earn money by recording videos on your computer.
With this money you can upgrade your setup to earn even more!
Keep up your moods: Hunger, sleep and happiness! The higher these are, the more you earn!
Fight bosses and open chests for upgrades, placing these down in your apartments gives you boosts!
You can start vlogging at 50k subscribers if you're bored of recording videos!
Become famous, unlock cool youtube awards, move out of your house, decorate it… and so much more!
From Roblox YouTube Life! website
Roblox YouTube Life! – About the Game
In YouTube Life the main goal is to try to be the best YouTuber of all time, for this you must get subscribers. So earn money recording videos on your computer, the more videos you record and they are of better quality and content, the more money you can earn with your videos, improve your equipment and your devices. Defeat bosses and open treasure chests, record everything you do and try to make your content interesting to increase the number of your subscribers.
Lead the leaderboard and be the most famous in all of YouTube.
You can also check it in spanish: Códigos
More Roblox Codes – Other Games
Have you enjoyed the codes? Looking for another game's codes? Find them here, more than 300 roblox games with their valid codes updated lists. Find there the newest Roblox games, but also all the classics. But check these top games:
Roblox YouTube Life!, by Play! Studios > Here