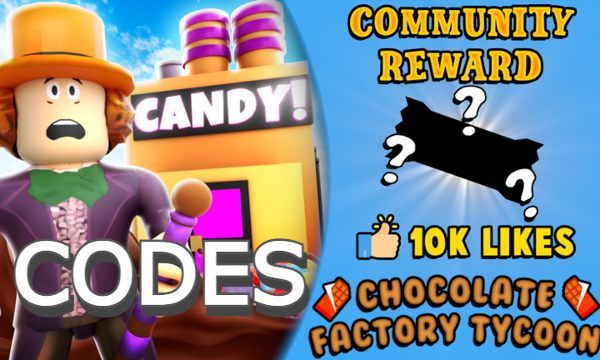 Last Updated on 29 May, 2023
All the valid Chocolate Factory Tycoon Codes in one updated list – Roblox Game by FutureWeb Games – Redeem these codes for some Chocolate Bars, Coins, Gems, Boosts, and more in-game gifts
Chocolate Factory Tycoon Codes – Full List
Valid Codes
Redeem these codes for some Chocolate Bars, Coins, Gems, Boosts, and more in-game gifts
These are currently the active codes
secretcloud Redeem code for Coins & Gems (New – thanks to GR_416)
IslandHops Redeem code for 100 Coins & 500 Gems
FLOOR2! Redeem code for 500 Coins & 2.500 Gems
CANDY Redeem code for 100 Coins
FIRST Redeem code for 100 Coins
RELEASE Redeem code for 100 Coins
Yummy Redeem code for 100 Coins
River Redeem code for 100 Coins
BehindCandy Redeem code for 50 Gems
HiddenKid Redeem code for 50 Gems
We will keep this codes list updated, stay tuned
Chocolate Factory Tycoon social media channels:
Twitter: @FutureRBLX
Discord channel: https://discord.gg/pCXDYNsBys
Youtube: FutureWeb Games
Join Roblox Group: https://www.roblox.com/games/8453849439/Chocolate-Factory-Tycoon
Chocolate Factory Tycoon Expired Codes
These codes don't work anymore:
Chocolate Factory Tycoon Codes FAQ – How to Redeem?
These are the steps to redeem codes:
Launch Chocolate Factory Tycoon on your PC or mobile device
Click on the Menu button on the left side of the main screen
Click on Twittter button
Copy a code from our list & Enter it into the text box
Hit the Submit button to get your reward
See how the youtuber Gaming Dan Redeems these codes in this video:
How to play Chocolate Factory Tycoon? Roblox Game FutureWeb Games.
Welcome to the Chocolate Factory Tycoon!
Description – Use the code "FIRST" and LIKE the game for a FREE COINS!
Welcome to Chocolate Factory Tycoon! Become a Rich Chocolate Factory Owner as you build up your giant skyscraper factory! Unlock and purchase Chocolate bars to collect Cards and increase the value of your candy! Eat Candy on the map and islands to Collect Gems, but BE CAREFUL, you can get a SUGAR RUSH!
Explore and discover Islands with more Exotic Candies that you can eat! The Skylands Island contains a shop where you could get some GAMEPASSES for FREE!
Join the group "FutureWeb Games" for the free bonuses!
https://www.roblox.com/groups/5456035/FutureWeb-Games
More Roblox Codes – Other Games
Have you enjoyed the codes? Looking for another game's codes? Find them here, more than 300 roblox games with their valid codes updated lists. But check these top games:
Chocolate Factory Tycoon, FutureWeb Games, Roblox Game Site > Here