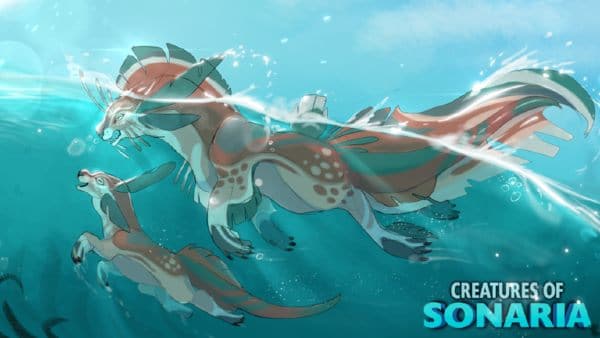 Last Updated on 5 December, 2023
All the valid Creatures of Sonaria Codes in one updated list – Roblox Game by Sonar Studios – Redeem these codes for some free rewards, like creatures, abilities, boosts and more
Creatures of Sonaria Codes – Full List
Valid Codes
Redeem these codes for some free rewards, like creatures, abilities, boosts and more
These are currently no active codes
We will keep this codes list updated, stay tuned
AstralAscension – code Reward: Astral Queztal Plushie (NEW)
REVERSEDEATH – code Reward: 2x Max Growth Tokens
GrowBig – code Reward: 2x Max Growth Tokens
Creatures of Sonaria social media channels:
Twitter: @Sonar_Games
Discord channel: https://discord.com/invite/bq2JEYA
Youtube: Sonar Studios
Join Roblox Group: https://www.roblox.com/groups/2919215/Sonar-Studios#!/about
Creatures of Sonaria Expired Codes
These codes don't work anymore:
IllPerfectSonaria – code Reward:n Apperance Change Token
SeekMe – code Reward: Weak Glimmer Token
IShatteredHim – code Reward: Partial Growth Token
RebusIsMine – code Reward: Random Gacha Spin Token
WELCOMETORECODE — code Reward: Tokens
Creatures of Sonaria Codes – How to Redeem?
There is no code redemption system in the game. As soon as the developers incorporate it in one of the following updates, we will inform you how to redeem codes in this section of the guide
See how the youtuber Gaming Dan Redeems these codes in this video:
How to play Creatures of Sonaria? Roblox Game by Sonar Studios
Creatures of Sonaria is a WIP of a creature survival game!
Yenyasha is here! Get them + free rewards from our new missions system!
Galtekron has arrived, along with a ton of bug fixes and performance improvements!
Play as a variety of creatures
Grow up and survive in a beautiful world
Play as: bleeder/toxic/tank/flier/etc!
Use exciting combat abilities
Hang out and socialize with friends
Group with others and battle as a team
Hunt in a vast universe
Save, trade, and store your grown creatures
Nest in adorable babies, and act as their parent to raise them!
Survive various seasons, weather, and disasters
Reach a full adult, and mutate to become even stronger
Survive harsh battles, and earn permanent battle scars
Tasty Farms is early access! Data will currently not save, we're working hard on a full release! Go try it out
Welcome to Sonar Studios!
We are the development team behind Dragon Adventures, Creatures of Sonaria and more here on Roblox! Follow us on Twitter @Sonar_Games!
Other Creatures of Sonaria Guides:
More Roblox Codes – Other Games
Have you enjoyed the codes? Looking for another game's codes? Find them here, more than 300 roblox games with their valid codes updated lists. But check these top games:
Creatures of Sonaria, by Sonar Studios, Roblox Game Site > Here