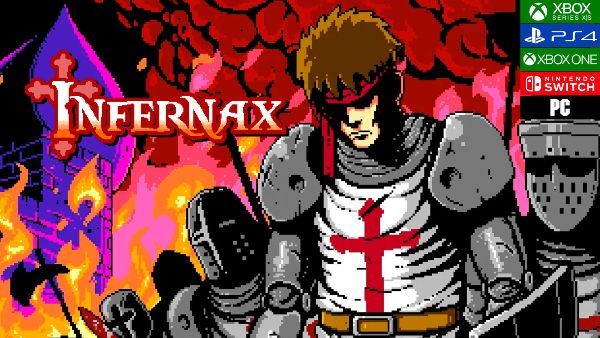 Last Updated on 18 April, 2022
Infernax All Endings Guide – a guide with requirements to unlock all the endings, the x4 main ones, and the x4 bonus ones
Infernax All Endings Guide – Full List
These are all the endings, and a summary of how to get them, for more detailed explanations, find the ending you need in the following sections
The Path of the Wretch: evil
The Path of the Martyr: good
The Path of Evil: ultimate evil
The Path of Righteous: ultimate good
The Path of Submission: Become Robert's apprentice instead of seeing the ultimate evil play through to its conclusion
The Path of Redemption: Return to good after turning evil
The Path of the Coward: Start a new game, killing the crucified, then immediately returning to the boat
The Path of the Future: travel to the future and defeat Azazel
Each of these endings will award a book for the library that contains codes for the game wizard if you want to enable cheats, although Submission and Sleepyhead have no achievements tied to them.
The Path of the Wretch Ending guide
When you turn wicked, follow the Ultimate Evil path right till you acquire the new set of equipment. Then complete the game without getting the Necronomicon
The Path of the Martyr Ending guide
Ultimate Good path, but to stop before reaching Necronomicon
The Path of the Evil Ending guide
Make the optimum possible amount of bad options
The Path of the Righteous Ending guide
Find the Necronomicon, to get it, eradicate Baphomet, try to keep the morality ranking at its peak
The Path of the Submission Ending guide
Become Robert's apprentice instead of seeing the ultimate evil play through to its conclusion
The Path of the Redemption Ending guide
One of the easiest, return to good after turning evil
The Path of the Coward Ending guide
Start a new game, killing the crucified, then immediately returning to the boat
The Path of the Future Ending guide
Unlocking the future route requires an ultimate good playthrough that has acquired the Necronomicon and 95% demonology completion (which requires killing everything in the ultimate good and evil routes).
To unlock the path of the Future Ending you have to travel to the future and defeat Azazel. But to do it you will have to have your Demonology book reasonably filled. Ultimate Good & Ultimate Evil playthroughs should enough
Infernax All Endings Guide – Full List
If you just want to see them, in this CrankyTemplar video you have the 8 endings and the credits of the game
Other Infernax Guides: