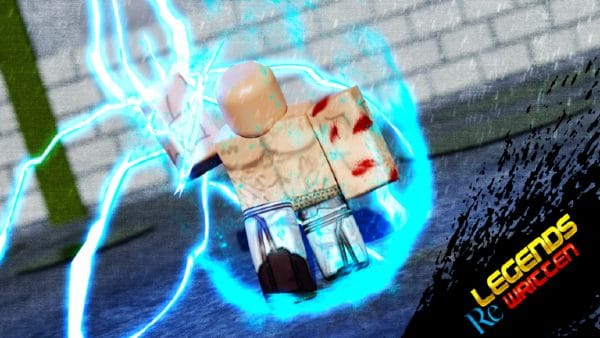 Last Updated on 23 September, 2023
All the valid Legends Re Written Codes in one updated list – Roblox Games by Scrumptious Studio – Redeem these codes for the in-game currency and exclusive items like blessing rolls or party hats
Also check the best artifacts and the Blessings tier list, Trello Link & Wiki
Legends Re Written Codes – Full List
Redeem these codes for the in-game currency and exclusive items like blessing rolls or party hats
Valid & Active Codes
These are all the valid codes
TYFOR25MVISITS: Redeem this code and claim free 20 free blessing rolls (New)
75KLIKES: Redeem this code and claim free 7 free blessing rolls
INFINITYRELEASE: Redeem this code and claim free 7 free blessing rolls
LRWPVPUPDATE: Redeem this code and claim free 5 free blessing rolls
200KFAVS: Redeem this code and claim free 10 free blessing rolls
BEASTBDAYCODE: Redeem this code and claim free 7 free blessing rolls
70KLRWLIKES: Redeem this code and claim free 20 free blessing rolls
CHRISTMAS2022: Redeem this code and claim free 20 free blessing rolls
TYFOR20MVISITS: Redeem this code and claim free 20 free blessing rolls
THNXFOR20KSUBSYT: Redeem this code and claim free 20 free blessing rolls
If you enjoy the game, do not forget to like it, so the creators will get more codes
Legends Re Written Social Media Channels
Discord: Scrumptious Studio Official
Twitter: @BeasTakip
Youtube: BeasTakip
Roblox Group: https://www.roblox.com/groups/4172489/Scrumptious-Studio#!/about
Do you miss any code in the list? leave us a comment and we will update it giving you credits
Expired codes
There are currently no expired codes
TYFOR65K: Redeem this code and claim free 10 free blessing rolls
15MVISITSHAT: Redeem this code and claim free Fire Fist hat
MARINEFORDRAID2022: Redeem this code and claim free 5 free blessing rolls
60KBLESSINGCODE: Redeem this code and claim free 9 free blessing rolls
CLFGS55K: Redeem this code and claim free Flame Great Sword
ANNIVERSARYPARTY: Redeem this code and claim free Teal Party hat! (+529 HP & Mana for the 5/29/21 date)
ANNIVERSARYBLESSING: Redeem this code and claim free 10 free blessing rolls
LATEEASTER2022: Redeem this code and claim free Blessing Rolls x5
THXFOR150K: Redeem this code and claim free Blessing Rolls x15
50KLIKESFLAME : Redeem this code and claim free flame staff
6MVISITS: Redeem this code and claim 6 Free Blessing Rolls
SDSUPDATE : Redeem this code and claim 12 Free Blessing Rolls
MELIOOFUS : Redeem this code and claim 7 Free Blessing Rolls
45KVIDEO: Redeem this code and claim 5 Free Blessing Rolls
HAPPYNEWYEARS2022: Redeem this code and claim 5 Free Blessing Rolls
WEHIT40KLIKES: Redeem this code and claim 4 Free Blessing Rolls
1YEARANNIVERSARY: Redeem this code and claim 7 Free Blessing Rolls
TENMILLIONVISITS: Redeem this code and claim 10 Free Blessing Rolls
CHRISTMAS2021EVENT: Redeem this code and claim 10 Free Blessing Rolls
PATCHED: Redeem this code and claim 5 Free Blessing Rolls
100KFAVORITES: Redeem this code and claim 10 Free Blessing Rolls
30KLIKES: Redeem this code and claim 3 Free Blessing Rolls
SUB2OGVEXX: Redeem this code and claim 5 Free Blessing Rolls
4MILLION: Redeem this code and claim 4 Free Blessing Rolls
25KLIKES: Redeem this code and claim 5 Free Blessing Rolls
PATCHCOMPLETE: Redeem this code and claim 10 Free Blessing Rolls
3MILLVISITS: Redeem this code and claim 3 Free Blessing Rolls
HALFWAYTO100: Redeem this code and claim 10 Free Blessing Rolls
15KCODE: Redeem this code and claim new limited item
2MVISITSAWARD: Redeem this code and claim new limited item
10KLIKES: Redeem this code and claim free blessing rolls x3 times
TYFOR1MVISITS: Redeem this code and claim free blessing rolls x5 times
LRW5KLIKES: Redeem this code and claim freebies
EARLYACCESSPARTY: Redeem this code and claim 3x free party hats
STRAWHATPIRATES: Redeem this code and claim 3x free party hats
1KLUCY: Redeem this code and claim 3x free party hats
2KLIKESBLESSING: Redeem this code and claim 3x free party hats
70kMINUS1KMEMBERS: Redeem this code and claim 3x free party hats
3KLIKESBLESSING: Redeem this code and claim 3x free party hats
BEASTAKIPGAMINGSETUP: Redeem this code and claim 4x Free Blessing Rolls
Legends Re Written Codes – How to Redeem?
Launch Roblox Legends Re Written and click on the Options button (side of the screen) to open the redemption window. Copy a code from our valid codes list and paste it there, then tap on the submit button
Here you can learn to redeem codes (video by youtuber Gaming Dan)
How to play Legends Re Written? Roblox Game by Scrumptious Studio
Shutdowns = Updates/Game patches
Fight enemies and bosses to get drops and level up your skills!
Mine ores and craft them into armor and weapons in the blacksmith!
Roll for a Blessing Magic!
Explore the map and find artifacts to learn magic! Artifacts will spawn depending on the season!
Max your skills and unlock level 100 skill capes!
Raids coming soon!
Controls:
M: Menu
F: Block
R: Free Fall
Left CTRL: Run
Q: Roll
Jump + Q: Dash
Equip Weapon(4) + E: Counter
Double Jump: "Space + Space"
Wall Jump: Double Jump into wall
H: Spawn Mount
*This game is intended to be played on PC but is accessible to mobile players, the mobile codes are slightly behind so not all game features are available. An Xbox port will also come eventually*
Early access codes can be found on my YT channel! @BeasTakip, and also check the script pastebin hacks
More Roblox Codes – Other Games
Have you enjoyed the codes? Looking for another game's codes? Find them here, more than 300 roblox games with their valid codes updated lists
Legends Re Written, by Scrumptious Studio > Here