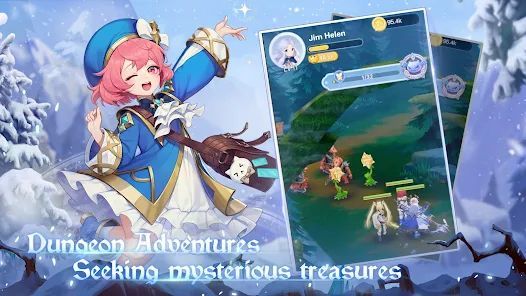 Last Updated on 30 September, 2023
Luna Fighting Codes – Mobile Game by Metajoy – Redeem these Luna Fighting Codes for gifts, consumables, boosts and money
Also check other Luna Fighting:
Luna Fighting Codes – Full List
Redeem these Luna Fighting Codes for gifts, consumables, boosts and money
These are all the available Luna Fighting Codes:
GRANDCEREMONY – Code reward: Some gifts
m9k5j5xtyg – Code reward: Some gifts
We'll keep this list of valid codes up to date, so keep following us as we'll add each new code as soon as it's available.
Luna Fighting social media channels, the channels from which they announce the codes:
Facebook: https://www.facebook.com/profile.php?id=100083348222264
Discord:
Playstore: https://play.google.com/store/apps/details?id=com.metajoy.luna&hl=az&gl=MY
Although you do not need to follow them if you do not want to, we will keep the list updated
Expired Codes
These Codes don't work anymore:
How to redeem Codes?
How to Redeem Codes in and get ready to claim your rewards by following these easy steps to redeem codes in game. These are the steps to redeem gift codes:
Launch Luna Fighting on your Android or iOS device
Tap on your Avatar at the top left of your screen
Tap on the Gift Code button under Settings
Enter a code in from our list
Tap the Confirm button to get rewards!
About Luna Fighting
The sequel to the popular online game LUNA, the mobile game Luna Fighting is now available! The flames of the World Tree have reignited, and the Floating Continents need a brave new adventurer. Are you ready to join the battle? Collect heroes from 6 clans and craft awesome mechs. Together, you and your friends from all over the world will embark on a fantastic journey to the World Tree and mysterious Dungeons.
Relaxing AFK adventures: Creative 24-hour AFK and adventure game offers endless offline rewards and many exciting side stories.
Favorite hero of six clans: Adventurers can summon and develop all kinds of careers and clans in the original LUNA. Lots of new career and clan bonuses are waiting for you to discover.
Dungeons for Treasure Hunting: Sandbox-based dungeon crawling combined with Rogue-like gameplay full of fun and rewards! Team up to hunt for the ultimate treasure!
Other Codes Guides
Also you can check other Code List, if you play any of these games. We recommend you to add in favourites webs (clicking Ctrl + D):