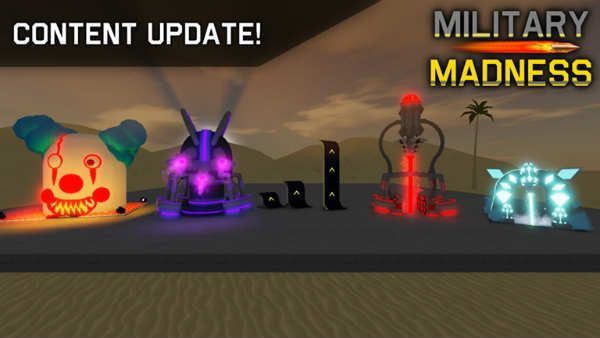 Last Updated on 12 September, 2023
All the valid Military Madness Codes in one updated list – Roblox Game by thunder1222 Productions – Exclusive items and more
Military Madness Codes – Full List
Get exclusive items like the Twitter upgrader, the Military Madness Statue or the Overdrive Ore dropper
Valid Codes
Get exclusive items like the Twitter upgrader, the Military Madness Statue or the Overdrive Ore dropper
SORRY4THEDELAY: Redeem this code and claim your Twitter upgrader x1
RELEASE: Redeem this code and claim your Twitter upgrader x1
MADNESS: Redeem this code and claim your Twitter upgrader x1
MILITARY: Redeem this code and claim your Military Madness Statue x1
OVERDRIVE: Redeem this code and claim your Overdrive Ore dropper x1
We update the codes list with every new code, so check if we have added a new code and claim your reward before the code expires
Follow @thunder1222RBLX on twitter, or join the Thunder1222 productions server on twitter to get the latest news and updates about the game and also the latest codes.
If you have already redeemed a code not included in the list, please tell us in the comments section, we will include it ASAP
Military Madness Codes – Expired Codes
It seems that the codes do not expire, but if they finally expire, we will include them here:
Military Madness Codes – How to Redeem?
Click on the Inventory button (left side of the screen) or press "G" on your keyboard, then enter the code (lower left corner of the new window) and click Enter to receive your free reward. If you have any doubt about redeeming, watch this video from youtuber SammyPsycho:
How to play Military Madness? Roblox Game by thunder1222 Productions
Military Madness is a military/futuristic sandbox tycoon that allows you to create your own setups to make money! You can also build your own base and fight enemies for EXP to rank up and earn exclusive items! Will you build the coolest base and make the most money?
Update Log:
1 New Elite Rebirth item
Vertical Conveyors!
Rebirth leaderboard changed from all time to weekly.
New Dropper and Upgraders!
Bug fixes
Apache update
Apache Helicopter!
Manned turret!
Loading skip button
3 new rebirth items!
2 new items!
New Cave!
Bug fixes
More Roblox Codes – Other Games
Want the newest codes for every Roblox Game? click here and find a list with more than 200 Roblox Games. Find the game you want, follow its link, and redeem all its valid codes.
Military Madness Roblox Game Site > Here