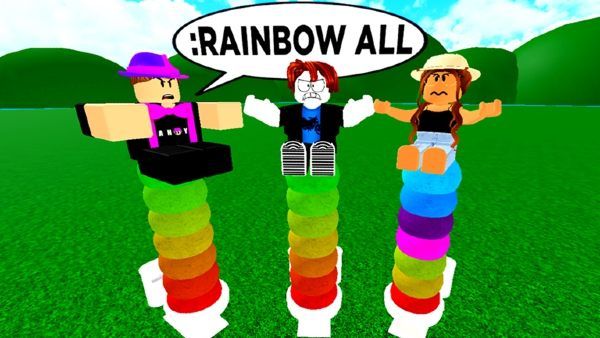 Last Updated on 1 October, 2021
Roblox Free Admin Commands – Full list of admin commands, suits, cheats, settings, game info, boosts…there are more than 100 admin commands
Roblox Free Admin Commands – Full List
:ping <player>
:commands <player>
:morphs <player>
:donor <player>
:serverRanks <player>
:ranks <player>
:logs <player>
:chatLogs <player>
:info <player>
:credits <player>
:updates <player>
:settings <player>
!prefix <player>
:clear <player>
:radio <player>
:getSound <player>
:cmdbar <player>
:cmdbar2 <player>
:refresh <player>
:shirt <player> <number>
:pants <player> <number>
:hat <player> <number>
:clearHats <player>
:face <player> <number>
:invisible <player>
:visible <player>
:paint <player> <color>
:material <player> <material>
:reflectance <player> <number>
:transparency <player> <number>
:glass <player>
:neon <player>
:shine <player>
:ghost <player>
:gold <player>
:jump <player>
:sit <player>
:bigHead <player>
:smallHead <player>
:potatoHead <player>
:spin <player> <number>
:rainbowFart <player>
:warp <player>
:ice <player>
:thaw <player>
:freeze <player>
:jail <player>
:forceField <player>
:fire <player>
:smoke <player>
:sparkless <player>
:name <player> <text>
:hidename <player>
:showname <player>
:r15 <player>
:r6 <player>
:nightVision <player>
:dwarf <player>
:giant <player>
:size <player> <scale>
:bodyTypeScale <player> <scale>
:depth <player> <scale>
:headSize <player> <scale>
:height <player> <scale>
:hipHeight <player> <scale>
:squash <player>
:proportion <player> <scale>
:width <player> <scale>
:fat <player>
:thin <player>
:char <player> <user id /username>
:morph <player> <morph>
:view <player>
:bundle <player> <number>
:dino <player>
:follow <user id /username>
:h <text>
hr <text>
ho <text>
hy <text>
hg <text>
hdg <text>
hb <text>
hdb <text>
hp <text>
hbk <text>
:fly <player> <speed>
:fly2 <player> <speed>
:noclip <player> <speed>
:noclip2 <player> <speed>
:clip <player>
:speed <player> <speed>
:jumpPower <player> <number>
:health <player> <number>
:heal <player>
:god <player>
:teleport <player> <individual>
:bring <player> <individual>
:to <player> <individual>
:apparate <player> <studs>
:talk <player> <text>
:bubbleChat <player>
:handTo <player>
:sword <player>
:gear <player> <number>
titler <player> <text>
titleo <player> <text>
titley <player> <text>
titleg <player> <text>
titledg <player> <text>
titleb <player> <text>
titledb <player> <text>
titlep <player> <text>
titlepk <player> <text>
titlebk <player> <text>
:fling <player>
:clone <player>
:clear
:m <text>
mr <text>
mo <text>
my <text>
mg <text>
mdg <text>
mb <text>
mdb <text>
mp <text>
mpk <text>
mbk <text>
:serverMessage <text>
:serverHint <text>
:countdown <number>
:notice <player> <text>
:music <number>
:pitch <number>
:volume <number>
:team <player> <teamcolor
:time <number>
:disco
:vote <player> <answers> <question>
:rich <player>
:zombie <player>
:ninja <player>
:cop <player>
:golden <player>
:fart <player>
:alien <player>
:astronaut <player>
:nurse <player>
:doctor <player>
:cat <player>
:doge <player>
:bear <player>
:prisoner <player>
:muscler <player>
:king <player>
:pirate <player>
:snowman <player>
:santa <player>
:cowboy <player>
:skeleton <player>
:unicorn <player>
:monkey <player>
:tiger <player>
:killer <player>
:werewolf <player>
:vampire <player>
:robot <player>
:clown <player>
:slender <player>
:tank <player>
:swat <player>
:banana <player>
:princess <player>
:superhero <player>
:bunny <player>
:famous <player>
:famous2 <player>
:penguin <player>
:chicken <player>
Roblox Free Admin Commands – How to use?
Just open the chat and enter any of the commands, for example if you want the cat suit type ":cat" in the chat and press enter
How to play Free Admin, by Creator Studio?
Welcome to Free Admin! You have cool Admin Powers which allow you to do awesome Admin Commands like ":Fling" or ":Jail". This game does allow powerful admin commands but the biggest rule is to have fun!
The Prefix is :
Type ":cmds" to view all Admin Commands!
Free admin allows you to:
Play with Admin Commands!
Fight with Hundreds of Free Powerful Gears!
Chat and Play with Others!
VIP Servers are free. You can play alone or invite your friends!
And much, much more!
Premium Benefits: Lucky Block!
Have fun, and thank you for playing! If you enjoyed this game, don't forget to Like, Favorite and Follow!
More Codes – Other Games
Have you enjoyed the codes? Looking for another game's codes? Find them here, more than 300 roblox games with their valid codes updated lists
Free Admin, by Creator Studio > Here