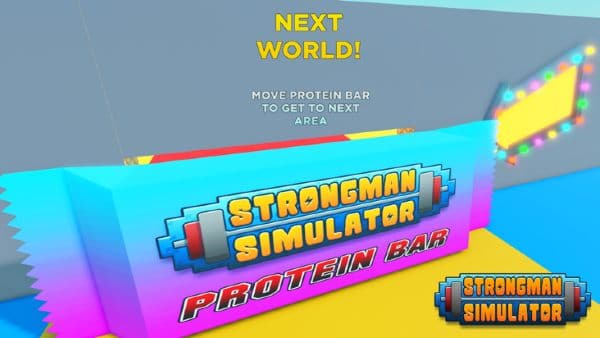 Last Updated on 31 December, 2021
Roblox Strongman Simulator Script Pastebin Hacks – the best updated hacks and scripts for the Roblox game, by The Gang Stockholm
How to Execute a Roblox Script?
Get a reliable and virus-free Roblox exploit and/or script executor, like Krnl, Synapse, or JJSPloit
fire the script executor up whilst in Strongman Simulator world, then copy and paste any of the scripts we are going to provide you into the provided box and hit the Execute/Inject button
Scripts may stop working after a game update. If so, we would appreciate if you leave us a comment informing, so that we can update this guide with the latest scripts, after verifying that they work
Roblox Strongman Simulator Script Pastebin Hacks – 2021 OP New!
If you want the pastebin script hack link > Here
But you can check the script here:
local library = loadstring(game:HttpGet("https://pastebin.com/raw/CkyR8ePz", true))()

local w = library:CreateWindow('Strongman Simulator')

local Workout_Mul = 1

— GUI SECTION

w:Section('Created by HamstaGang, unpatched by OREZAKung')

— GUI Toggles

local FarmHydra = w:Toggle('Farm Hydra', {flag = "FarmHydra"})

local FarmStrength = w:Toggle('Farm Strength', {flag = "FarmStrength"})

w:Box("CUSTOM WORKOUT MULTIPIER",{type = "number"},function(v)

Workout_Mul = v

end)

— [[ GUI FUNCTIONS ]] —

local Best_WorkOut,Best_Num = nil,0

for i,v in pairs(game:GetService("Workspace").Areas:GetDescendants()) do

if v.Name == "WorkoutNumber" and v.Value > Best_Num then

Best_WorkOut,Best_Num = v.Parent.Parent,v.Value

end

end

function FarmHydra()

–clear

— Local Player

local Plr = game:GetService("Players").LocalPlayer

local Char = Plr.Character

local RootPart = Char.HumanoidRootPart

local LowerTorso = Char.LowerTorso

— Game Stuff

— local Loader = game:GetService("Workspace").BadgeColliders.FarmBadge

local Hydra_Item = game:GetService("Workspace").Areas["Area9_Space"].DraggableItems:FindFirstChildOfClass("MeshPart")

if Hydra_Item == nil then

— We need to load part of the map in.

RootPart.CFrame = CFrame.new(-132.68457, 45.386734, 4114.20654, 1, 0, 0, 0, 1, 0, 0, 0, 1)

return true;

end

local Hydra = Hydra_Item:WaitForChild("InteractionPoint")

local Proximity = Hydra:FindFirstChild("ProximityPrompt")

— Teleport and grab Hydra

RootPart.CFrame = Hydra.CFrame

wait(0.1)

Proximity:InputHoldBegin()

Proximity:InputHoldEnd()

— Teleport us to the finish (I have some nasty hard coded stuff in here.)

repeat

for i,v in pairs(game:GetService("Workspace").PlayerDraggables[game.Players.LocalPlayer.UserId]:GetChildren()) do

v.Anchored = true

v.CFrame = game:GetService("Workspace").Areas["Area9_Space"].Goal.CFrame

wait()

v.Anchored = false

end

wait()

until #game:GetService("Workspace").PlayerDraggables[game.Players.LocalPlayer.UserId]:GetChildren() < 1

end

function FarmStrength()

— Local Player

local Plr = game:GetService("Players").LocalPlayer

local Char = Plr.Character

local RootPart = Char.HumanoidRootPart

— Game Stuff

local Gym = Best_WorkOut

local Proximity = Gym.ProximityPrompt

— Teleport to Weights

RootPart.CFrame = Gym.CFrame

wait(0.1)

— Start Workout

Proximity:InputHoldBegin()

wait(0.3)

Proximity:InputHoldEnd()

while w.flags.FarmStrength do

wait(0.1)

game:GetService("ReplicatedStorage")["StrongMan_UpgradeStrength"]:InvokeServer(Workout_Mul)

end

— Jump to end Workout

Char.Humanoid.Jump = true

end

— [[ GUI LISTENERS ]] —

— Farm Hydra

spawn(function()

while wait() do

if w.flags.FarmHydra then

FarmHydra()

end

end

end)

— Farm Strength

spawn(function()

while wait() do

if w.flags.FarmStrength then

FarmStrength()

end

end

end)
Roblox Strongman Simulator Script Pastebin Hacks – 2021
If you want the pastebin script hack link > Here
But you can check the script here:
loadstring(game:HttpGet("https://pastebin.com/raw/SXDriN7Y", true))()
Roblox Strongman Simulator Script Pastebin Hacks – GUI 2021
If you want the pastebin script hack link > Here
But you can check the script here:
loadstring(game:HttpGet('https://raw.githubusercontent.com/hngamingroblox/scripts/main/strongman%20simulator'))()
GUI 2021 II
If you want the pastebin script hack link > Here
But you can check the script here:
— Anti AFK (Roblox-Side) (OutESP V3RM)

pcall(function()

repeat wait() until game:GetService("Players").LocalPlayer

for i,v in pairs(getconnections(game:GetService("Players").LocalPlayer.Idled)) do

v:Disable()

end

end)

— LOAD GUI & LIBRARY —

local library = loadstring(game:HttpGet("https://pastebin.com/raw/CkyR8ePz", true))()

local w = library:CreateWindow('Strongman Simulator')

— GUI SECTION

w:Section('Created by HamstaGang')

— GUI Toggles

local FarmHydra = w:Toggle('Farm Hydra', {flag = "FarmHydra"})

local FarmStrength = w:Toggle('Farm Strength', {flag = "FarmStrength"})

— [[ GUI FUNCTIONS ]] —

function FarmHydra()

— Local Player

local Plr = game:GetService("Players").LocalPlayer

local Char = Plr.Character

local RootPart = Char.HumanoidRootPart

local LowerTorso = Char.LowerTorso

— Game Stuff

local finish = CFrame.new(-75.377388, 10.0537405, 1464.45337) + Vector3.new(0, 5, 0)

local Loader = game:GetService("Workspace").BadgeColliders.FarmBadge

local Hydra_Item = game:GetService("Workspace").Areas["Area6_Medieval"].DraggableItems:FindFirstChild("Hydra")

if Hydra_Item == nil then

— We need to load part of the map in.

RootPart.CFrame = Loader.CFrame

return true;

end

local Hydra = Hydra_Item:WaitForChild("InteractionPoint")

local Proximity = Hydra:FindFirstChild("ProximityPrompt")

— Teleport and grab Hydra

RootPart.CFrame = Hydra.CFrame

wait(0.1)

Proximity:InputHoldBegin()

wait()

Proximity:InputHoldEnd()

— Teleport us to the finish (I have some nasty hard coded stuff in here.)

for i=1,3 do

local drag = game:GetService("Workspace").PlayerDraggables[Plr.UserId]:FindFirstChild("Hydra")

if drag then

wait(0.1)

RootPart.CFrame = CFrame.new(-75.4448624, 12.5450888, 1275.53699) — Mid way

wait(0.1)

drag.CFrame = finish + Vector3.new(50, 10, 0)

drag.ExtraWeight.CFrame = finish + Vector3.new(50, 10, 0)

RootPart.CFrame = drag.CFrame + Vector3.new(50, 5, 0)

LowerTorso.CFrame = drag.CFrame + Vector3.new(50, 5, 0)

end

end

return true; — Debounce

end

function FarmStrength()

— Local Player

local Plr = game:GetService("Players").LocalPlayer

local Char = Plr.Character

local RootPart = Char.HumanoidRootPart

— Game Stuff

local Gym = game:GetService("Workspace").Areas.Area1.Gym.TrainingEquipment.WorkoutStation.Collider

local Proximity = Gym.ProximityPrompt

— Teleport to Weights

RootPart.CFrame = Gym.CFrame

wait(0.1)

— Start Workout

Proximity:InputHoldBegin()

wait(0.3)

Proximity:InputHoldEnd()

while w.flags.FarmStrength do

wait(0.1)

game:GetService("ReplicatedStorage")["StrongMan_UpgradeStrength"]:InvokeServer()

end

— Jump to end Workout

Char.Humanoid.Jump = true

end

— [[ GUI LISTENERS ]] —

— Farm Hydra

spawn(function()

while wait() do

if w.flags.FarmHydra then

repeat wait() until FarmHydra() == true — Debounce

end

end

end)

— Farm Strength

spawn(function()

while wait() do

if w.flags.FarmStrength then

FarmStrength()

end

end

end)
If you found this guide helpful, you might also want to take a look at these Strongman Simulator guides: