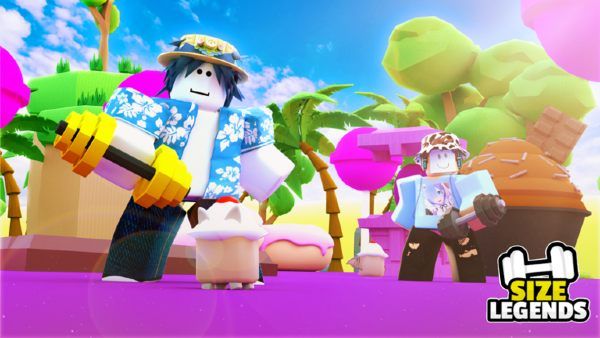 Last Updated on 30 June, 2022
All the valid Size Legends Codes in one updated list – Roblox Game by Denim Studio – Redeem these codes for coins, buy better weights and genes and become bigger and stronger
Size Legends Codes – Full List
Valid Codes
Redeem these codes for coins, buy better weights and genes and become bigger and stronger
These are all the valid & new codes
DevFoll: Redeem Code For Free coins (New)
Release: Redeem Code For Free coins (New)
We will keep this codes list updated, stay tuned
Size Legends social media channels:
Twitter: @DevFoll
Discord channel: https://discord.com/invite/ynPtUCn6AX
Youtube: Denim
Join Roblox Group: https://www.roblox.com/groups/12641764/Dev-Production-s#!/about
Size Legends Expired Codes
These codes don't work anymore:
Size Legends Codes – How to Redeem?
These are the steps to redeem codes:
Launch Size Legends on your PC or mobile device
Click on the Codes button on the right side of the screen.
Select the text field in the new menu.
Enter your code and hit Redeem.
See how the youtuber Gaming Dan Redeems these codes in this video:
How to play Size Legends? Roblox Game by Denim Studio
Welcome to Size Legends!
Update Log
Fixed Combat!
Lift Weights To Become Bigger & Stronger!
Buy Better Weights & Genes To Upgrade Your Body!
Earn Coins!
Unlock Zones!
Become The Strongest & Be On The Leaderboard!
Follow for game updates!
Join the group for additional perks and benefits!
https://www.roblox.com/groups/12641764/Dev-Production-s#!/about
Premium benefits!
2x Sell!
Premium Overhead!
Premium Chat Tag!
Tags: Simulator, Size Legends, Lifting
Size Legends Dropping a huge update, soon including: Pets, new map, new tools, new dna, new stages, and a balanced gameplay. Before that i'm happy to announce the brawl update will be happening soon!
More Roblox Codes – Other Games
Have you enjoyed the codes? Looking for another game's codes? Find them here, more than 300 roblox games with their valid codes updated lists. But check these top games:
Size Legends, by Denim Studio, Roblox Game Site > Here