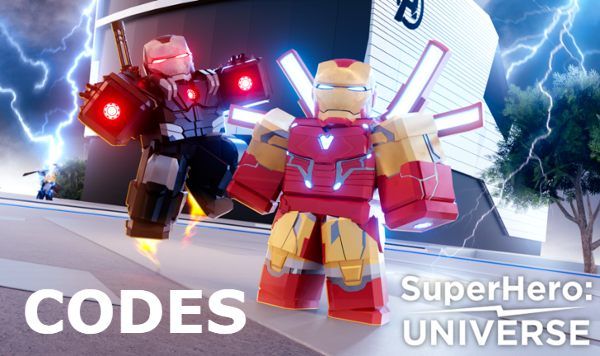 Last Updated on 1 March, 2023
All the valid SuperHero Universe Codes in one updated list – Roblox Game @HimynamCODE – Redeem these codes for some coins, boosts, I.S., SuperHeroes, and more
SuperHero Universe Codes – Full List
Valid Codes
Redeem these codes for some coins, boosts, I.S., SuperHeroes, and more
There are currently active codes
RaidenMK> Code reward: 30 coins
12kLIKES> Code reward: 35 coins
Attractions > Code reward: some freebies
XmanZ > Code reward: 20 coins (never expires)
1.5RELEASED > Code reward: 25 I.S (never expires)
We will keep this codes list updated, stay tuned
SuperHero Universe social media channels:
Twitter: @HimynamCODE
Discord channel: https://discord.gg/ZWJGFRDzzK
Youtube: HiMyNameCODE
Join Roblox Group: https://www.roblox.com/games/7369208341/MUTANT-MAYHEM-SuperHero-Universe-UPDATE-1-6
SuperHero Universe Expired Codes
These codes don't work anymore:
maGnetMaN > Code reward: 35 coins (Expires July 25)
Tor > Code reward: 50 I.S
JustDatGuyPal > Code reward: 25 I.S
SuperHero Universe Codes FAQ – How to Redeem?
These are the steps to redeem codes:
Launch SuperHero Universe on your PC or mobile device
Press on the "Codes" button to open the menu (on the left side)
New window will appear, so copy a code given in our list
Paste it into the text area
Press the Enter button on your keyboard to get free rewards & enjoy
See how the youtuber Gaming Dan Redeems these codes in this video:
How to play SuperHero Universe? Roblox Game @HimynamCODE.
Check out our socials for the latest updates:
Development Log | UPDATE 1.6 | :
Wolverine (Apocalypse version)
Magneto
New Private server creator system
New map "X-men Apocalypse"
Let the games begin.
Welcome to the Super Hero Universe, where you can be your favorite superheroes and fight other superpowered beings.
Be Iron-Man and blast your foes, or be Doctor Strange and confuse your enemies! Tons of choices to change the fate of your opponent. You choose your path and climb the leaderboard to become the Ultimate Universal Warrior.
DEVELOPERS:
@HimynamCODE
@Batmans2014suit
@Wolfhard32
@ps4spiderman101
@QuixClyde
@Purpluxe
@Miggylaccio2k
CONTRIBUTORS:
More Roblox Codes – Other Games
Have you enjoyed the codes? Looking for another game's codes? Find them here, more than 300 roblox games with their valid codes updated lists. But check these top games:
SuperHero Universe, @HimynamCODE., Roblox Game Site > Here