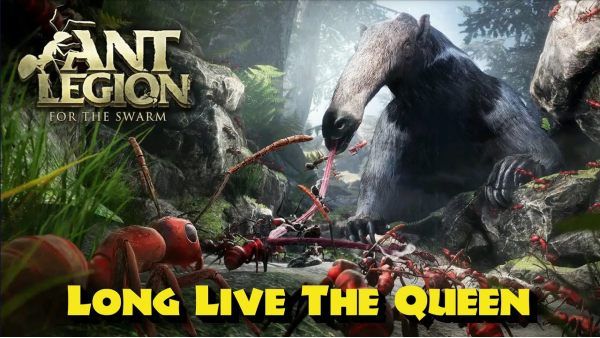 Last Updated on 20 September, 2023
All the Ant Legion Codes in one updated list – Mobile Game by 37GAMES – Redeem these codes for Coins, Diamonds, Snails, Snail Civil Pts, March Recall, Relocates, Training Speed and more
Ant Legion Codes – Full List
Redeem these codes for Coins, Diamonds, Snails, Snail Civil Pts, March Recall, Relocates, Training Speed and more
Valid & Active Codes
These are all the valid codes
fathersday – Redeem Code > some freebies (New)
happy61 – Redeem Code > some freebies (New)
15kgroup – Redeem Code > some freebies
ANTBACK777 – Redeem Code > some freebies
ALXmas – Redeem Code > some freebies
ANT1ST – Redeem Code > some freebies
WC2022 – Redeem Code > some freebies
ALLucky – Redeem Code > some freebies
TOGETHER – Redeem Code > some freebies
May1 – Redeem Code > some freebies
EASTERSPD – Redeem Code > some freebies
LOVE214 – Redeem Code > 6 Water x10000, 6 Fungi x2500, 6 5-min Speed, 1 March Recall, and Random Relocate
Spring – Redeem Code > rewards
New2022 – Redeem Code > 222 Diamonds, 500 Snail EXP, 2000 Snail Civil Pts, March Recall, Random Relocate, and 5-min Training Speed
ant777 – Redeem Code > 200 Diamonds, 5-min Training Speed, 10 Snail EXP, 500 Snail Civil Pts, March Recall, and Random Relocate
More codes soon, stay tuned and check our list at least twice a week
Ant Legion Expired codes
These codes no longer work:
DC20K – Redeem Code > some freebies (Valid until April 30)
patrick – Redeem Code > some freebies (Expires March 22)
WG10ofAL – Redeem Code > Freebies
Ant Legion Social Media Channels
Discord: https://discord.com/invite/theantsofficial
Twitter: ??
Facebook: https://www.facebook.com/antlegiongame/
Leave us a comment if you find more working codes, we will add them to the list giving you credits
Ant Legion

– How to Redeem?
Follow these steps to redeem codes:
Launch Ant Legion (For the Swarm).
Tap on the More (right bottom at main screen)
Go to Settings
Box button (ant´s face) > Tap on it
Copy and paste a code from our list or type the code
Click on " Confirm" and enjoy your freebies
About the Game
We suggest you to read all before play, cause we will give you some advises to improve your game quality.
Tiny Ants for a big world, but your decisitions will make them powerfull.
Ant Legion: For the Swarm has Licensed by renowned natural science photography sites. You will see thousands of HD photos of ants and their habitat. Also you will learn about ants and will enter into the secrets of these tiny creatures while playing the game.
Start: build your own entire ant empire, and try to expand it as much as you can. Establish your main nest and some colonies, Ants are good builders in the wilds. Connect chambers by trusses tunnels and make your empire bigger than any one.
More Ants: Hatch different types of ants for your legions! Collect different ants from all over the world! Try to beat other colonies with your elite ant soldiers.
Resources: Water and food are main resources, so you need to collect them, also you will must to protect all your resources from predators.
Alliance: you will need form alliances with friends to be the most prowerfull swarm in the Game, you can not do it by your own, so invite some friends to the battle!
Ant Queen: Remember it´s the most important of the swarm, so protect her with you legions.
Some references of the players:
In the following video you can check how to redeem codes in Ant Legion (thanks to youtuber: Ants Legion)
Some tips for Beginner players
Another video for beginner players, just check it, it is a short video (thanks to youtuber: andro-games)
More Codes – Other Games