Last Updated on 13 July, 2023
Ark Ragnarok Ice Wyvern Egg Locations – Map & Coordinates with all the nest and a guide to farming eggs and hunting ice wyverns
Ark Ragnarok Ice Wyvern Egg Locations – Map
Nothing is easier than seeing the specific locations on the map, although later we will give you some details on how to get to each location. Click on the map if you need to enlarge it.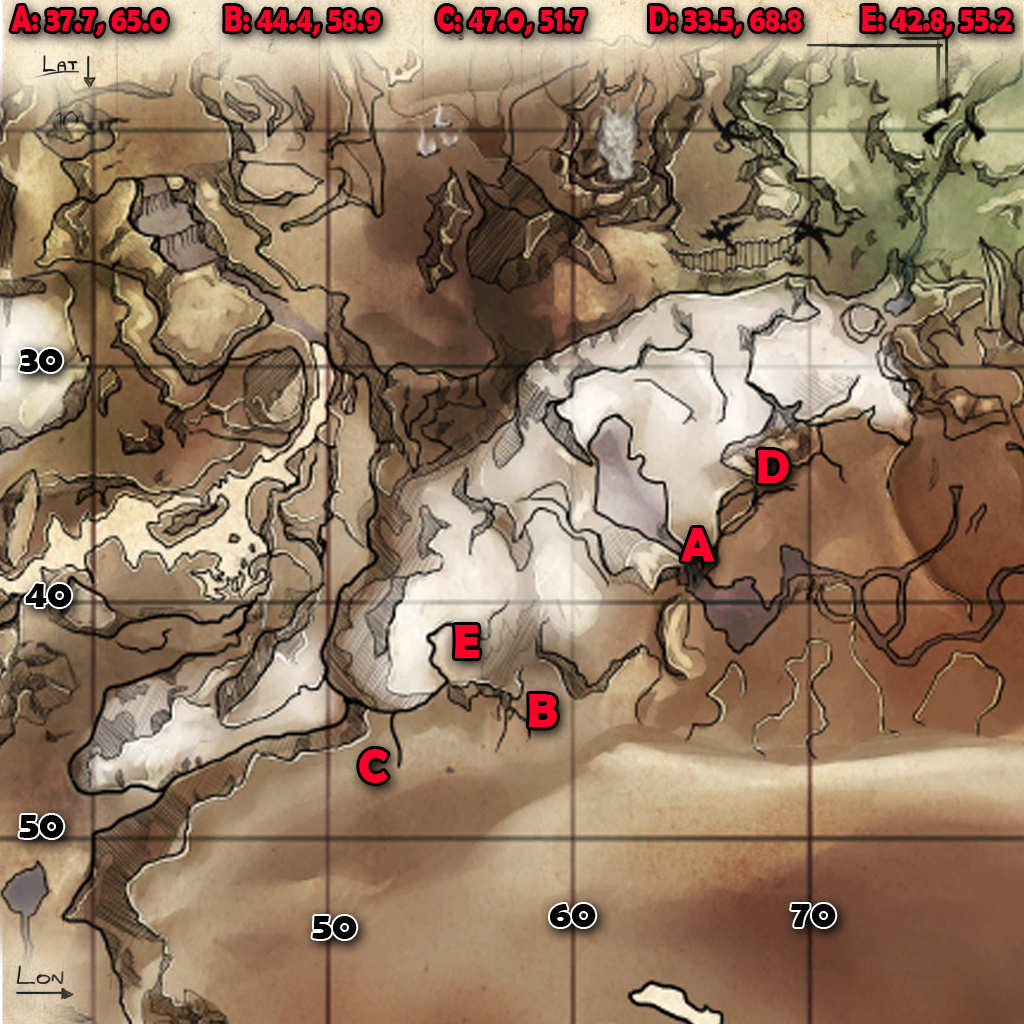 Nests' Coordinates
Although all the nests are in really cold snow areas, and you have the points marked on the map, we give you some detail about each of the locations
A – 37.7 / 65.0 – In a circle of trees
B – 44.4 / 58.9 – Open ground
C – 47.0 / 51.7 – Edge of a cliff
D – 33.5 / 68.8 – Hidden ledge
E – 42.8 / 55.2 – Rocky ledge
Ark Ragnarok Ice Wyvern Egg Locations – Tips
It is obvious that hunting Ice Wyverns requires you to know what you are doing, not that it is the strongest enemy in the game, but it is quite strong and it flies. So beyond the obvious, we hope that these tips will help you:
For there to be a nest with eggs there must be Wyverns. So you won't find nests until you find a Wyvern. Once you find it you have two options:

If it's high level, add it to force it back to the nest.
If it's low level, kill it. When you kill them all they will immediately hatch, and you can farm as many eggs as you want.

We recommend you go hunting Ice Wyverns with a Pteranodon or a Griffin, and that either one has a high stamina level.
Otter pet: It will help you a lot with resistance to cold. But if you also improve his melee damage you will increase his hypothermic effects.
If the Ice Wyvern is on you and you have a hard time getting rid of it, flying near mammoths is one of the best options for it to leave you alone
When stealing an egg, be aware that any nearby Wyverns will try to attack you, just like any dinosaurs.
Ice Wyvern FAQ
The Ice Wyvern breathes ice. Targets hit are slown down by 50% for 10 seconds.
The Frozen debuff is inflicted by six invisible projectiles fired during the animation. Each deals 20 immediate damage each (scaled by the Melee Damage stat).
Bosses are not affected by the debuff.
Dealt damage is affected by armor.
Can be used every 2.5s by a rider, or 6.5s by AI.
Other Ark Guides: