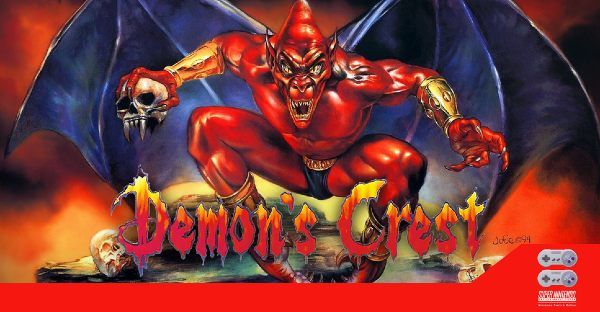 Last Updated on 25 August, 2022
Demon's Crest Cheat Codes – Passwords (levels, modes, forms, items…) Endings requirements, and also the five vials cheat
Demon's Crest Cheat Codes – Passwords
These are the passwords to unlock levels, items, forms, game modes and everything
Unlock level 2: GDBF YLFV HZJS ZHCS
Unlock level 3: HDDM NTKB HQLF XKLD
Level 4: VWNP XSQX CGBH BPJB
Unlock level 5: DKHH UMHH UMBH CSWN
Unlock level 6: YZHF MMXK VJDR GMWQ
Level 7: PBGX RVNG KGKX WRSB
Unlock all items, fight Phalanx in final form, and fight Dark Demon.: TDGM JRMB DBWB ZWSB
Boss rush mode: RBNL XHGB VGBB LYLD
Start with Dragon defeated, first crest, and first urn.: VHW FBBR VKZS TVTS
Play as Ultimate Gargoyle: FDQP QRMB FGNH GTKL
Unlock everything: QFFF KNRR DDLR XGTQ
But there are not only passwords in Demon's Crest. Also check the Endings requirements and the Five Vials Cheat
Demon's Crest Cheat Codes – Endings
There are four possible endings, meet these requirements to unlock them all
Chaotic Demon Realm (Bad): Beat Phalanx after beating Arma twice and getting the Ground and Air Crests.
The Demon's Seal (Normal): Beat Phalanx after getting the Time Crest but before collecting all Talismans.
Phalanx Defeated! (Good): Beat Phalanx after getting Time Crest and all Talismans.
Firebrand's Realization (Best): Defeat the Dark Demon using the Ultimate Gargoyle.
You can unlock the four endings in different gameplays
Five Vials
Hold A for a couple of seconds at the title screen and then press start, you will start a new game, but with all five vials.
It is more an easter egg than a cheat, but it is really useful to start the game with all five vials
Do you know any other cheat? Please leave us a comment so we can add it
Other Cheats guides: