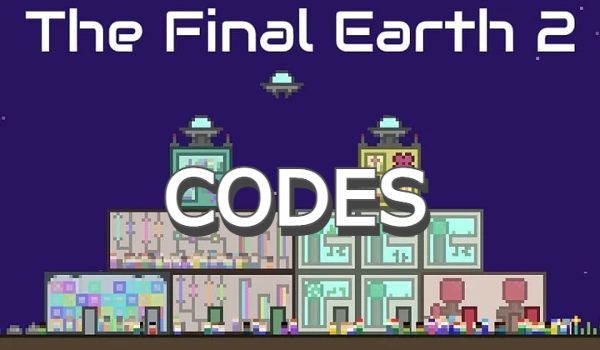 Last Updated on 31 October, 2023
Final Earth 2 Secret Code – Mobile game by Florian van Strien – Colony Sim – Redeem these codes for free in-game rewards and gifts like Information, Plants, Ships, Packs, and Other Rewards
Redeem these codes for free in-game rewards and gifts like Information, Plants, Ships, Packs, and Other Rewards
Final Earth 2 Secret Code – Full List
These are all the available Giftcodes Final Earth 2 Secret Code:
Coolmath – Redeem code to get information on citizens' productivity and city development
Dance all night – Redeem code to switch between five Nightclub lights options
debug_pathfinder – Redeem code to debug secret code (works only in the standard game; it is incompatible with the Coolmath platform.)
Orchid – Redeem code to get more plant types
Stats – Redeem code to find out more about city statistics
Hangar – Redeem code to change the looks of the ships (works only in the standard game; it is incompatible with the Coolmath platform.)
We'll keep this list of valid codes up to date, so keep following us as we'll add each new code as soon as it's available.
Final Earth 2 social media channels, the channels from which they announce the codes:
Facebook: ??
Twitter: @FlorianStrien
Instagram: ??
TikTok: ??
YouTube: ??
Discord: ??
Apple: to dowload game click here
Google Play: https://play.google.com/store/apps/details?id=com.FlorianVanStrien.TheFinalEarth2&utm_source=site&utm_campaign=sitepromo/
Steam: https://store.steampowered.com/app/1180130/The_Final_Earth_2/
Web: justo clik in the following link
https://poki.nl/g/the-final-earth-2
Although you do not need to follow them if you do not want to, we will keep the list updated
Expired Codes
These codes no longer work:
Final Earth 2 Secret Code – How to use?
These are the steps to redeem codes on Android
Launch Final Earth 2 on your device
Click on the Menu Button on the bottom right of the main screen
Click in input secret code button
Copy & Paste in a code from above
Automatically Confirm to redeem the code & Enjoy your freebies!
Also, If you need to know how to redeem a code, just check the following video, thanks to Youtuber:
About Final Earth 2
Welcome to The Final Earth 2: Colony Sim – Build your own space colony! – Florian van Strien Codes
In this vertical city builder in space, create a fantastic city! Build and research your way to a better future by gathering resources first! Develop your city from an exploratory vessel into a sizable metropolis with cutting-edge technologies. What will you construct?
It's up to your space colony on a tiny globe to save humanity now that the earth has been destroyed! Can you create the city of your dreams while providing food, shelter, and entertainment for everyone?
Some Features
Build a huge city with thousands of inhabitants, all fully simulated!
Over fifty different buildings to discover!
Great, fully original music by Stijn Cappetijn!
Discover the story in scenarios, or go wild in Free Play or Sandbox mode.
There might even be a secret society…
What You Want to Build!
You can create the city you desire with a variety of buildings. Will it be a massive party, a green hippy paradise filled with gardens, or a single enormous factory? Will your colony consist of one massive structure or will it be dispersed across hundreds of worlds? Do you have effective teleporters or a disorganized jumble of landing pads for your transport? It's entirely up to you!
The Final Earth 2 has a lot to explore, including hippies, hackers, and even a hidden society. There are many more than fifty structures to discover, and there will be even more in the future, including some genuinely sci-fi (science fiction) inventions!
Manage Your Colony!
Sit Back and Enjoy Your City!
And more
Other Codes Guides
Also you can check other Code List, if you play any of these games. We recommend you to add in favourites webs (clicking Ctrl + D):