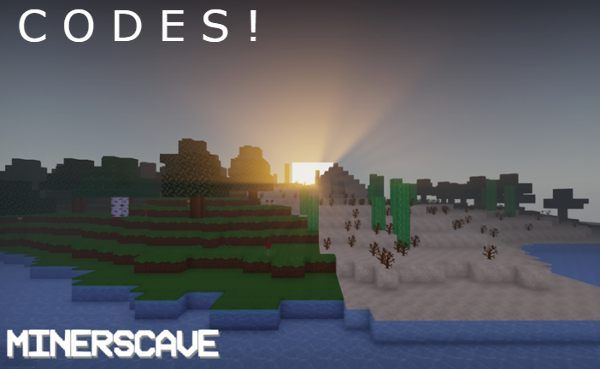 Last Updated on 29 November, 2023
All the valid Minerscave Codes in one updated list – Roblox Game by The Miners Cave – Redeem these codes for cash, resources, playing kits, equipment and exclusive in-game rewards
Minerscave Codes – Full List
Redeem these codes for cash, resources, playing kits, equipment and exclusive in-game rewards
Valid & Active Codes
These are all the valid codes
35KLIKES or 40KLIKES – Code reward > Basic Resources
:kit group – Code reward > Starter Kit [Must be a part of the The Miners Cave Group, Code must be entered in the chat!]
More codes to redeem soon, stay tuned
Minerscave ROBLOX Social Media Channels
Discord: https://discord.gg/jJvCtcUErC
Twitter: Stealthy – @AStealthyGoblin
Youtube: ??
Roblox Group: https://www.roblox.com/games/6604417568/Minerscave-1-5
Roblox The Miner Cave Group: here
Expired codes
These codes are no longer work:
Leave us a comment if you find more codes, so we can keep the list updated
Minerscave Codes – How to Redeem?
These are the steps to redeem codes
Launch Minerscave
Click on "E" button (on your Keyboard)
A screen will open/show, click on Codes button.
Copy a code from our list or type codes to the empty area
Press Redeem button
Enjoy your rewards
Check this video guide by Gaming Dan:
How to play Minerscave? Roblox Game by The Miners Cave
Welcome to Minerscave!
Minerscave is a sandbox survival game with a never ending world! Explore and create your own adventure!
Join group to access free kit, chat-tag!
Use command :kit group in the GAME CHAT once you have joined!
https://www.roblox.com/groups/10218556/The-Minerscraft-Club
Explore a never ending world with your friends
Fight other players and survive to your best ability
Mine different materials such as dirt, stone, wood
Create a free Private Server, build nice map with friends that auto-saves [ALPHA]
Latest Update:
Common dupe fixes
Crafting recipes
Better looking hand
Crouch added (top left crouch icon for mobile, CTRL for pc)
Shift button to sprint on PC
Moved some buttons
Redeem codes in inventory
About Minerscave
If you like Minecraft, this Roblox game called Minerscave will excite you even more! In Minerscave you must survive by manufacturing almost everything you can imagine.
In order to develop and progress within Minerscave, you will have to: collect resources, make equipment, fight enemies and much more, in other words, collect resources (as many as you can) the more resources you collect, the bigger your creations will be and the cooler things you can craft, resources are the basis of all games like Minerscave or Minecraft; create objects, houses and innumerable interesting stuffs to progress in game. Defeat enemies, you will be able to find different more or less aggressive mobs throughout the game, defeat them and defeat them to obtain resources and special objects.
As an optional part, redeem codes to get EXTRA resources and other special items, these will give you a significant advantage.
More Roblox Codes – Other Games
Have you enjoyed the codes? Looking for another game's codes? Find them here, more than 300 roblox games with their valid codes updated lists. But check these top games:
Minerscave, by The Miners Cave > Here