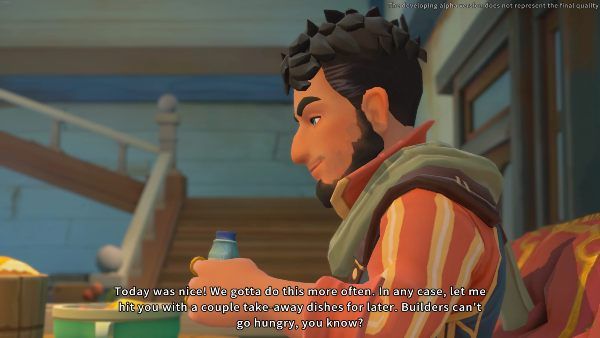 Last Updated on 13 October, 2022
My Time at Sandrock Owen Guide – Gifts & Romance – Best Gifts, Birthday, Locations, Perks, Relationship levels and more
My Time at Sandrock Owen Guide – Gifts
Focus on gifts that add points, loved & liked gifts
Owen's Loved Gifts
Loved gifts will give you from +10 to + 20 Owen's relationship points
Copper Pot
Frying Pan
Spice Rack
Painting: Desert
Animal Skin Carpet
Cow print Sofa
Arm Stretcher
Barbell
Leather Gloves
Sandfish King
Wolf Eel King
Sandacuda King
Nine Horn Dragon King
Agave Leaf
Cistanche
Rhino Horn Cactus
Popping Oil Fruit
Stewed Eagle Cistanche
Eel Jerky
Journey to the East
Pioneer
Around the world in However many days
Explorer Scarf
Explorer Boots
Explorer Hat
Explorer Pants
Explorer Vest
Owen's Liked Gifts
Loved gifts will give you from +5 to + 9 Owen's relationship points
Desk Clock
Retro Fan
Ceramic Bottle
Bullhead
Large Desert Mudfish
Snake Head FIsh
Nine-Horn Dragon
Horned Adder
Large Sandacuda
Walking Fish
Large Horned Adder
Crucian Carp
Desert Mudfish
Sand Sculpture Meat
Wolf Meat
Rosemary
Tea Leaves
Coriander
Sandberry Egg Soup
Alfalfa Baked Eggs
Sandrice Sushi
Meaty Cactus Stew
Yamel Sausage
Water
Hourglass
Wind Chimes
Owen's Neutral Gifts
Loved gifts will give you from +1 to + 4 Owen's relationship points
Any gifts not listed in this guide, and not declined by Owen
Owen's Disliked Gifts
Loved gifts will give you from -1 to – 4 Owen's relationship points
Bronze Scrap
Fine Copper Scrap
Fine Iron Scrap
Fine Rubber Scrap
Fine Stone Scrap
Fine Bronze Scrap
Stone Scrap
Wood Scrap
Copper Scrap
Dilapidated Dining Table
Dilapidated Furnace
Dilapidated Engine
Worn Tires
Biocrust
Owen's Hated Gifts
Loved gifts will give you from – 5 Owen's relationship points
Snake Tooth
Mucus
Venom
Snake Saliva
Lizard Tooth
Feces Shell Eggs
Manure
Ruined Paper
Ruined Glass
Dregs
Ruined Cloth
Strange Stone
Food Scraps
Textile Scraps
Unlabelled Medicine
Exhausted Fitness Equipment
TV with Broken Screen
Abandoned Doll
Asphalt Road Fragments with a bit of History
Burnt Coffee Table
Sofa Scratched by Cat
Broken Double Bed
Petrified Closet
Refrigerator with Missing Door
Astronomical Telescope
Old Jeans
My Time at Sandrock Owen Guide – Romance
Romance is a social gameplay mechanic that allows the player to date and eventually marry any eligible marriage candidate, regardless of gender. Not all characters can be romanced.
Owen is a Sandrock native and owner of the Blue Moon Saloon. Owen loves reciting stories from the Old World and having live performances at his saloon. Owen also enjoys sandfishing, sandsurfing and chatting with his customers. People see him as very helpful to others
Owen can be befriended. Give gifts to him until you raise the relationship level, and use this information, it will be useful
Birthday: Spring 2 (Always give him gifts, but especially on that date)
Where to find Owen? He can be found around town near to his home and business which is just down the lane from City Hall, find him also at the Town Square
Perks –

Buddy: Receive a 10% discount in the store.
Friend: Receive a 20% discount in the store.
Good Friend: Receive a 25% discount in the store.
Other Guides: