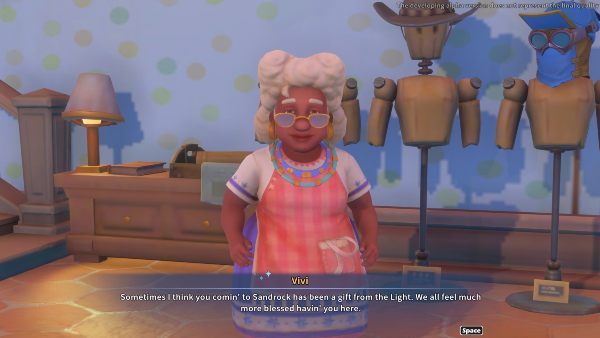 Last Updated on 13 October, 2022
My Time at Sandrock Vivi Guide – Gifts & Romance – Best Gifts, Birthday, Locations, Perks, Relationship levels and more
My Time at Sandrock Vivi Guide – Gifts
Focus on gifts that add points, loved & liked gifts
Vivi's Loved Gifts
Loved gifts will give you from +10 to + 20 Vivi's relationship points
Large Storage Box
Complete Skin
Suede
Tanned Leather
Canvas
Hardened Leather
Refined Suede
Fiber Thread
Artificial Leather
Ozdak Step Dancing Statue
Jeweled Egg
Conch Shell Godess Statue
Meowses II Statue
Big Flowered Rhino Potted Plant
Mountain Rose Potted Plant
Agave Potted Plant
Gold
Jade Bracelet
Gold Ring
Golden Ear Bone Ring
Gold Earrings
Hot and Sour Fish
Roasted Eel
Magnifier
Vivi's Liked Gifts
Loved gifts will give you from +5 to + 9 Vivi's relationship points
Copper Pot
Frying Pan
Spice Rack
Copper Spatula
Soup Pot
Curry Powder
Soy Sauce
Five Spice Powder
Wool Cloth
Sisal
Woolen Cloth
Linoleum
Twine
Sand Date Flower
Potted Ball Cactus
Mountain Rose
Potted Cactus
Robot Glasses
Blessing Pendant
Yakmel Hairband
Handkerchief
Cotton Handkerchief
Rooster Crest Headdress
Germinating Hairpin
Full Moon Bracelet
Fragrant Satchel
Yakmel Hat
Budding Brooch
Agave Leaf
Cistanche
Rhino Horn Cactus
Pepper
Rosemary
Desert Mushroom
Coriander
Seesai Pepper Blend
Rib Meat
Sandberry Juice
Pickled Black Fungus
Highwind Fried Rice
Sweet and Sour Tenderloin
Yakmel Doll
Funny Mask
Vivi's Neutral Gifts
Loved gifts will give you from +1 to + 4 Vivi's relationship points
Any gifts not listed in this guide, and not declined by Vivi
Vivi's Disliked Gifts
Loved gifts will give you from -1 to – 4 Vivi's relationship points
Bronze Scrap
Fine Copper Scrap
Fine Iron Scrap
Fine Rubber Scrap
Fine Stone Scrap
Fine Bronze Scrap
Stone Scrap
Wood Scrap
Copper Scrap
Dilapidated Ding Table
Dilapidated Furnace
Dilapidated Engine
Worn Tires
Condensed Power Stone
Condenser
Broken Power Stone
Data Disc
Simple Circuits
Power Stone
Simple Circuit
Engine
Microchip
Motovational Hammer
Vintage Pistol
Vintage Assault Rifle
Iron Sword and Shield
Iron Great Sword
Iron Dagger
Iron Spear
Vintage Shotgun
Stone Daggers
Stone Sword and Shield
Stone Spear
Stone Sword
Rifle Bullet
Shotgun Bullets
Rocket Missile
Pistol Bullet
Bronze Daggers
Bronze Spears
Bronze Sword and Sheild
Bronze Greatsword
Vivi's Hated Gifts
Loved gifts will give you from – 5 Vivi's relationship points
Snake Tooth
Mucus
Venom
Snake Saliva
Lizard Tooth
Feces Shell Eggs
Manure
Niter
Plastic
Polyester
Phenolic Resin
Plastic Shell
Ruined Paper
Ruined Glass
Dregs
Ruined Cloth
Strange Stone
Food Scraps
Textile Scrap
Unlabled Medicine
Exhausted Fitness Equipment
TV with broken screen
Abandoned Doll
Asphalt Road Fragments with a bit of History
Burnt Coffee Table
Sofa Scratched by Cat
Broken Double Bed
Petrified Closet
Refridgerator with missing Door
Atronomical Telescope
Old Jeans
Easy Bazooka
Rocket Missile
Gunpowder
My Time at Sandrock Vivi Guide – Romance
Romance is a social gameplay mechanic that allows the player to date and eventually marry any eligible marriage candidate, regardless of gender. Not all characters can be romanced.
Vivi is the proprietor of Tailor Made, a clothing shop on Main Street. Hugo, the blacksmith is her son. Heidi is his daughter and Vivi's granddaughter
Vivi can be befriended. Give gifts to him until you raise the relationship level, and use this information, it will be useful
Birthday: Spring 6 (Always give her gifts, but especially on that date)
Where to find Vivi? She can be found her family home which can be found by going straight through the shop itself, find him also at the Town Square
Perks –

Buddy: Receive a 10% discount in the store.
Friend: Receive a 20% discount in the store.
Good Friend: Receive a 25% discount in the store.
Other Guides: