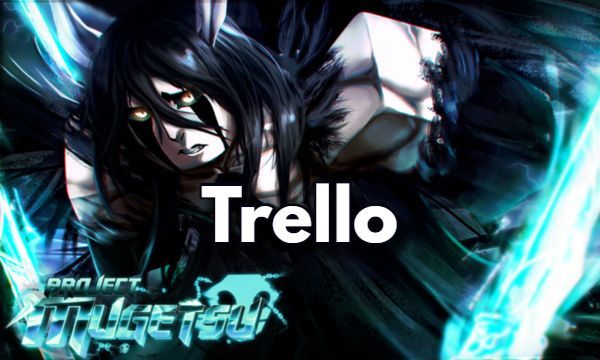 Last Updated on 9 October, 2023
Project Mugetsu Trello Link & Wiki Join to the Community – Official link of Trello, the most complete wiki of the Roblox Osiris Productions
Also check PM Codes, Clans Tier List, Shikai,
Project Mugetsu Trello Link & Wiki Join to the Community – Official Trello
Trello Link & Wiki – Project Mugetsu: https://trello.com/b/OECi8YQL/project-mugetsu
Project Mugetsu – Wiki
If you are looking for guides or a wiki of the game nothing better than Trello, the information is official, it is supervised by the creators of the game, and it is up to date. You may need other additional guides for certain things, but 90% of your doubts should be solved with Trello
In the first section "Information" there is introductory information, such as the Map (very useful) or the Codes, although the codes better look at them here, there are more > Codes
Project Mugetsu is a popular Roblox game based on the anime and manga series Bleach. Created by Osiris Productions, this game offers an engaging gaming experience on the Roblox platform. With a variety of clans to choose from, each with their own unique abilities and playstyles, there's something for everyone in Project Mugetsu.
Finding the perfect clan in Project Mugetsu can be a daunting task.
The game features an extensive list of clans, each with unique strengths and abilities. As with any game that includes multiple characters or classes, players are naturally interested in which ones are the best.
In case it can help you, here are some guides based on Trello information. Although grouped in a list format, to make it easier for you to access the information:
Other Project Mugetsu guides: Visit the Codes
But what exactly is Trello, and why is it such a valuable resource for Project Mugetsu players?
Simply put, Trello is a digital storyboard that allows users to create and share boards, lists. Organize and track information. Originally designed for businesses to manage projects. Trello has since become a popular tool for developers. & gamers alike to share information and updates about their projects and games.
Trello board is the only place where you can find official and up-to-date information about Project Mugetsu. Because only the game's developers have administrator permissions. They're the only ones who can make changes to the Trello board. Ensuring that the information is accurate and reliable.
Link Trello Games: Sea Piece 2, A Piece, Fruit Warriors, Final Tower Defense, Heavens Arena, Fairy Tail, All Trello Guides here