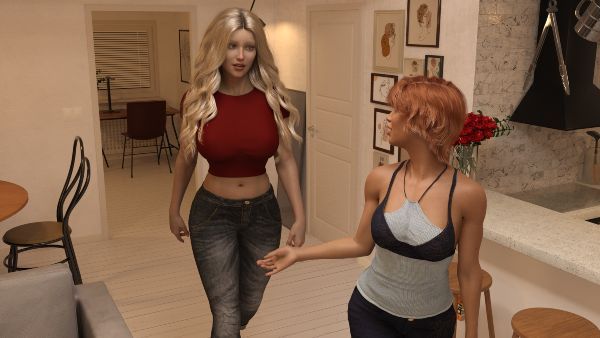 Last Updated on 30 September, 2023
Project Myriam Walkthrough & Guide – All the choices to unlock all the events and scenes with all the characters in the game
Chapter 0 Prologue
Best choices to unlock all the events in Project Myriam Walkthrough – Chapter 0
Resist the pulsion
Yes, I really need to relax and clear my mind
Let him look at you shower > What does she do? > Lock eyes with him
Give in and quickly > Does she give in > Does she give in > Give in
Motel: Your choices
F*** it, no reason I can't have > Your choice
Yes, Anthony is a man, but Marc shouldn't do that
My birthday-suit will do just fine
Project Myriam Walkthrough – Chapter 1
Best choices to unlock all the events in Project Myriam Walkthrough – Chapter 1
Excited
Is he looking at my….?
Yes, I should wake him up now > Why not, it won't take long
My god he's so muscular
I should tell her, it'll do me good to talk about it
She's right, it's embarrassing but this dress his gorgeous
She's right. She's outrageous, but definitely…
It's just for Eve, nobody else will see
I'm n…, but it's just a kid, he can't have done anything that bad > I have to think of something and quick! (Improvise) > Oh my god! They're totally flirting with me! (Flattered)
Yes > Yes > Your choice (but do it)
Yes, definitely. (You want to have Myriam live weird adventures, directly out of the disturbed
mind of the Author.
Yes, I'm going
Yes. (Thinking of the three of them.)
No, it's fine, there's nobody here
Damn! Why the hell not
She try to ignore it. (Embarrassed)
No, I had enough.
Who does she think she is!
Let's listen and see if it's important
He's right!
Damn you Anthony! You deserve it for what you done to me
I want his
Maybe I should go see
I can't let people hurt that nice man > I should go get him some warm clothes
I need it > I need his… > Yes, I want to
Say it also and kiss him on the lips
My god! Is that true?
Project Myriam Walkthrough – Chapter 2
Best choices to unlock all the events in Project Myriam Walkthrough – Chapter 2
F*ck it! I really need to go
Why is she embarrassed? Maybe she has somewhere else to be. (Notice)
She's an impressive woman and…
Yes please, I'm a furry nice person > Take him > Ok, maybe
Let's take the bus, it will be easier in town later on. > No. I can't move… > Emb & tou > Yes, I really need to talk to someone
Stay outside and wait > Sneak in discretely > Maybe just a little peek > It look so…
It's my fault, I can't leave him like this > want it so much!
Police Station: Yes
Aliens: Yes please
Yes, I have to tell him everything, or I won't go better
Thankful
Ignore
Yes, I should take some for the kids, and…
Yes, or I won't stop thinking about it
Secretly…
Excited > Yes, let's tease him a bit
Your choice
What a cute scout outfit
Better do nothing and play the sleeping card > It'll be worse if I stop him
I feel so guilty now > …..and clean up
God! This is so wrong, but > Oh god! I have to stop him, BUT…
God! Some people are really fearless
Oh! And why the hell not!? > They're just curious kids
Maybe I could help him a bit > God! I want
Stay and apologize
The voices seems familiar > Amused
No, I'm fine
Well, they're professionals
don't want to spoil the shots
Yes! I want to!
"Let it go!
Happy
Excited
I can't just leave it here!
Try to stop him!
Mortified but strangely ex… > The public play and the risk
A little embarrassed and proud
Curious
This feels so good
Oh! He's giving me his arm
Wait! But what about the young man!?
God! She's so..
….Nubia's touch
God! It would be my fourth
Maybe I could send him something to eat while he wait
I should look for Guy, he wanted to give me a tour
Gosh! I'm feeling so…
God! My heart is beating so fast, I think I… > God! I need this > Wait! No! We need to use > God! I want so much > Stop! Don't get
…. (nope)
Happy
Damn it! I feel just fine
When in Rome…!
Oh! And why not! > Well, it was weird but not so bad
Mmmh!
Mmmh! > Oh god! I want
What does Myriam remember? Oh my god! What did I do!?
Church: Ex &d curious > I can't let him go to church like this > Yes! I should go in and confess my sins > Oh my god! I'm possessed
She's so gorgeous
God! What can I do to convince him to stay? > I could let him
Why not, I always liked old folks
It'll be a tough job, but it can be rewarding
Wow! That's really tough, but I like a challenge
Let's send a text and see what happens > No, let's just write bluntly and be done with it
God! She's really H
Kiss back
No…
Dirty and determined.
He's just being nice
Do it for Anthony > For Anthony, you can do it > Why am I feeling… > Why does he suddenly get so polite about it!?
I want to explore more of it! > I feel ashamed, but
I can't take it anymore > have to help her and make Anthony pay
She's so sweet and innocent, you want to take a bite out of her
Project Myriam Walkthrough – Chapter 3
Best choices to unlock all the events in Project Myriam Walkthrough – Chapter 3
Your choice (to share)
Dammit! I deserve to do what I want with my body > Dammit! And why not > Gosh! And why not > I… > Wait! I want > Face > Ok… I mean I can't know without trying
Wow! That big mamba looks really incredible
Oh! And why the hell not
Yeah! Why not, it looks fun and crazy
God! He's so excited! He won't take no for an answer
This is kind of my own fault
Maybe I can use another shower
The boys' are nearer, maybe I should go there quickly > Wait! > Maybe I could cheer him up a bit > Yes, that kid definitely deserve some more > "Oh! And why not! I want it
Ok! But please stop, your friends are just there
No, it's ok, it would be my pleasure
I should stop him, the poor kid doesn't deserve this
No, she must just be joking around
Number 3 > …I need to take the edge off > Excited > Oh! And why not
Yes, two glasses
React quick and hide inside > Maybe I could help him > Let him decide > God! Yes! I'm still
Could I really go…? > No, it's risky but > Nope
Is he checking me out > God! If he keep looking at me like that > It's a sweet…
Choose

Mike > He's quite charming
Danny > He's quite manly

No, sorry, I already had too much to drink
Is he not being a little co… > Let's make no jealous > God! This is crazy, but…
No, better not, I should calm down for tonight
No, we're just having fun
What can they be talking about > No, stop! It's just the alcohol talking
Thank you, but I've got enough > No more drinking > Letting things get… > God! This is crazy!
God! This is crazy, but I'm feeling so excited also > God! He's going to kill me with that thing > God! I'm going
Why not? It wasn't his fault > I should let it go > F*** it! I'm feeling
I should go have a look, he could be trapped
This will clearly make some heads turn
No, it's too important..
Even if it's a small chance I have to take it…
Something bold
Let's go "au naturel
Yeah! I'm fine with it.
Why not, it sounds like fun
Maybe I could invite her for a coffee
Make scrambled eggs
Kick his balls > Again > Third time's the charm
No, I should stick to the plan > Maybe I should help before somebody else get hurt > I have to follow him > I have to do it > Excited > Leave it near the door
Zzzzzz!
I'm curious how it tastes
Let's find a little discreet spot and take care of him > I can't let him push
God! Yes, please > And why…. > And why…
It's just a misunderstanding > Why not > I loved it > Maybe I could lift his spirit a bit > should go look for him…
Begrudgingly say yes to help him > Yeah, maybe I could change into a swimsuit > Well, it's definitely s*xy > Nope! > Nope!
It's too late now
Why not, it can just dry off with the sun
Why not, that's nice of him to offer
God! F*** it! I want
It's worth a shot
God! I just want to kiss her
Amused by the girl
Surprised and fascinated
This is so crazy, but I'm curious > God! It's crazy, but I'm so curious about her life
Look at him all flustered like a teenager
Thankful and curious
Quickly open > I feel so guilty, this is my fault
Stop him guilty
Come on Myriam! It's crazy > Oh! And why not
Excited by the feeling
He's really holding
Say nothing > Ashamed > Decides to do it… > To be honest, it even kind….
The night with him was pretty fun > And why not > And why not
No excuses now
…!? > But…!? > "I-I'm sorry…
Well, I do love a man taking charge > What are they talking about? > Maybe I could show him some encouragement
She follows the two > She drinks as they come > Oh! Yeah! It's been so long > Let's just have fun
And why not after all!?
Yes and she makes him go first
can't complain after showing it off in front
Follow along x2 > God! And why not
Come on Myriam, the night is still young
It's ok, I'll be fine > Just ignore him and don't make a scene
Yeah, I think I should
Dear god! Poor man > The poor man… Maybe I could help > mouth
Why not, Doctor Silver told me it was good for sleep
God! It's embarrassing but kind
God! I'm not proud of it
I better not piss him off
Does he want me to show him
No, I think I better keep things discreet
God! I guess I can show
He's in such need of affection > God! That smell
Yeah, I think I should
Project Myriam Walkthrough – Chapter 4
Best choices to unlock all the events in Project Myriam Walkthrough – Chapter 4
I have to try > …knees > hard
Was that a woman's
Do it without thinking
May-maybe it'll be alright
Doing it for Evelyn
Did it just for Evelyn
Made a point
Excited by the shame
Why not
Share the love
Yeah! I still want
Aaah! Wait! > Your choice
No, not yet
Maybe I could try it/again > Maybe I can oblige > oblige them again
I didn't think about it but > If it's just looking
Ye-yes, I still want > Ca-can I just keep
That, he definitely will > Peek at Nubia > I-I don't know > Yes, I would like that
Go left to see Marc or Katherine
Marc: Yes, he needs some cheering up > He probably want
Katherine: I-I've got to make sure everything is ok
Start by someone specific: All
Happy
Oh! And why not
And he must have missed his
Oh! And why not…
Maybe just one more minute > Dare!
If it helps her…
Maybe I should postponed
Yeah! I'll just ask Flint
Yeah! I would love it…
Why not!
can still ask at least
Well, they can enjoy the show
I can't let them get thrown out > Oh! And why not
Well, that feels pretty nice
God! Now I can't stop > Wait! I think
It's my own damn fault, may-maybe I could
I can't let them get caught
It's now or never
I could at least let them > God! He's going
More guides – Cheat Code & Walkthrough: