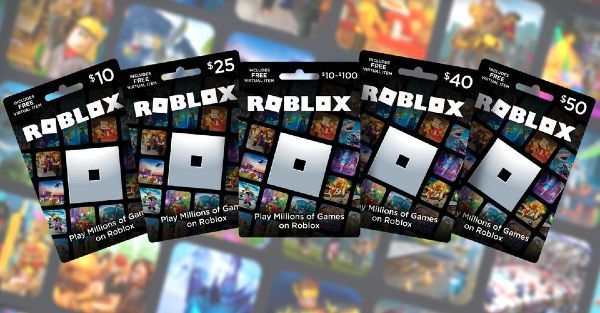 Last Updated on 4 June, 2023
Robux Roblox Gift Card Codes – The best methods to get the Roblox currency, Robux, totally free and 100% legal
What are Robux or Roblox Gift Card Codes?
As the name suggests, they are codes redeemable for gift cards. What is less obvious is that they do not work like Promo Codes or the codes that you can redeem in most games, as they are limited to one use.
They are highly valued, since although sometimes the gift consists of exclusive Roblox items, most of the time they grant Robux when redeeming, and everyone is looking for Robux
Surely you already know hundreds of websites that promise Robux and are a waste of time. But if you get a gift card that no one has redeemed yet, it is 100% reliable, the robux are obtained instantly.
They are not easy to get, but there are ways to do it, and the Robux are guaranteed, so we explain
How to get Robux or Roblox Gift Card Codes?
Currently there are only two methods through social media accounts of youtubers, or creators on twitter, and through Microsoft Rewards. Of course you can also buy Robux for real money on Roblox. But for that you do not need a guide, here we will explain how to get them for free
Microsoft Rewards
Join Microsoft Rewards here: https://www.microsoft.com/en-us/rewards/robux-edge-offer. You just have to click on "Join Now", and if you do not have a Microsoft account, create one
There are many more rewards, but once inside click on redeem, and in the search engine for Robux or Roblox you will see that there is only one Roblox reward. Although depending on the points you get you can earn more or less Robux:
100 Robux = 1500 Points
200 Robux = 3000 Points
400 Robux = 6000 Points
800 Robux = 12000 Points
1000 Robux = 15000 Points
The 100 Robux are quite easy to get. But even if it is more difficult try to get the 1000 Robux and you will not need the Roblox coin again
Twitter, Youtube…
This method is much more random, but if you spend a little time with it, it can also be effective. These are the steps
Enter Twitter and in the search box on the top right put Robux Gift Card or Roblox Gift Card.
Locate trustworthy accounts that give away gift cards or give Robux as prizes. There is a lot of scam, so check the account. Ideally, they should be youtubers, Roblox game creators, or well-known brands
Follow those trustworthy accounts and participate in their Roblox coin contests
Example: https://twitter.com/kolbysnister. He is a Roblox developer with almost 3,000 followers on twitter who during the month of January 2022 gave away a card with 4,500 Robux and another with 6,600 (Roblox price = $75)
And if you follow the three steps that we indicate you will see that there are many more. Look at the retweets or views if you are not sure if the person or website is reliable or not. Because of course there are many scams or people without any credibility.
Unused Robux or Roblox Gift Card Codes
It is very unlikely that you will be able to redeem these codes. Because they only have one use, but we leave you a few free codes to redeem:
910 433 6743
947 726 1418
834 906 0159
893 344 2769
799 912 0475
855 061 5545
917 347 9408
The truth is that we do not recommend this method, nor that you look for codes. By the time you find a code online, there will already be someone who has used it. You have to look for them before they come out and try to get them, or find sites like Microsoft Rewards that allow you to get Robux in exchange for certain actions. But of course they are reliable sites. Nobody doubts that if Microsoft makes a free gift card for Roblox it will be true.
If a Roblox developer gives Robux away it's usually pretty reliable, but it's impossible to know who they give it to, or if they actually give it away. And if they are pages that do not have agreements with Roblox, unknown people or without followers, better not waste your time
How to Redeem Robux or Roblox Gift Card Codes?
It's as easy as going to this url: https://www.roblox.com/redeem
Once there it is very intuitive, you just have to enter (copy and paste) the code in the blank text space and click on Redeem
An alternative method is to use the Roblox Gift card code as a payment method when purchasing something on Roblox. That is, you locate the object you like within the Roblox platform, if it is not free it will have a price in Robux, but when you go to pay it you can choose between paying with Robux (if you have one) or paying by exchanging a gift card
We hope that this guide has been useful to you, and that at the very least you have achieved the 100 Robux from Microsoft Rewards
And of course, if you discover any other site as good as Microsoft Rewards, we will be very grateful if you share it in the comments. So that we can add it to this guide and share it with the rest of the Roblox players who have come here to find out
More Roblox Cheats & Hacks:
Other Roblox Codes Guides