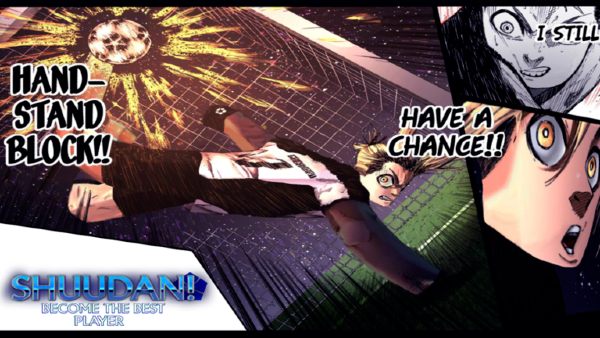 Last Updated on 26 April, 2023
Shuudan Controls – PC Keyboard controls for player and goalie – Guarding, Dribbling, Sprint, Header, Dive, Corner Dive and more
Shuudan! is a game based on the popular anime Blue Lock. This game will have two game modes Closed Community and Public.
Other Roblox Shuudan guides: Trello Link, Specialty Tier, Codes
Shuudan Controls – PC Desktop
These are all the Player and Goalie Controls:
Player PC Keyboard Controls
W = Jog
W + Shift = Sprint
Sprint + Q = Slide
G = Guarding
F = Pass Ping
Z = Dribble Left
X = Dribble Front
C = Dribble Right
V = Dribble Back
Dribble Keys + M2 = Dribble Skill
Left Control = Shot Type/Style
E = Pass
E + Mouse Near Teamate = Auto Aimed Pass
R = OverHead
M1 + Jump = Header
Hold M1 = Charge Shot
Release M1 = Shoot
Goalie PC Keyboard Controls
Space = Dive Up
Space + A = Dive Left
Space + D = Dive Right
Left Click = Corner Dive Left
Right Click = Corner Dive Right
In case you need other issues common to all roblox games, such as graphics, recording videos and so on, check out these controls:
Equip Tools: 1,2,3…
Unequip Tools: 1,2,3…
Drop Tool: Backspace
Use Tool: Left Mouse Button
Screenshot: Print Screen
Record Video: F12
Dev Console: F9
Mouselock: Shift
Graphics level: F10
Fullscreen: F11
Perf Stats: Ctrl + Shift + F7
Roblox Menu: Esc
Backpack: º
Player list: Tab
Chat: –
Shuudan Controls – Video Tutorial
This is the only Roblox Shuudan guide you'll ever need, so make sure to watch it to learn everything you need to know in order to rank high on Roblox! I'll cover everything from the basics to more advanced things, so don't miss it :D.
It's a broader guide, covering more than just PC controls. But it is highly recommended that you take a look at Duxsty's tutorial, it will be useful for you whether you are a newbie or have been playing for a while