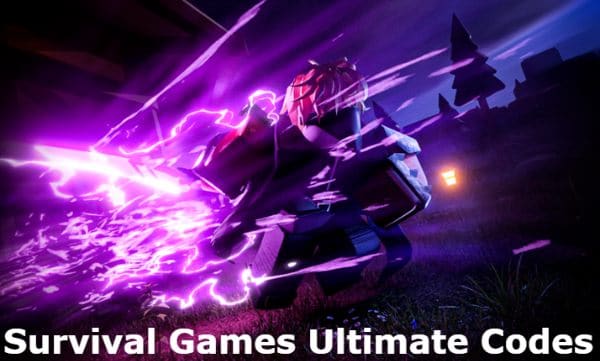 Last Updated on 22 September, 2022
All the valid Survival Games Ultimate Codes in one updated list – Roblox Game by Alpha Engine – Redeem these codes and get Gems, emotes, artifacts, boosts, and other free gifts
Survival Games Ultimate Codes – Full List
Valid Codes
Redeem these codes and get Gems, emotes, artifacts, boosts, and other free gifts
These are all the valid & new codes
10KLIKES: Code reward > 1.000 Gems
Next code at 10k likes
Survival Games Ultimate social media channels:
Twitter: @SurvivalGamesU1
Discord channel: Survival Games Ultimate – here
Roblox Group: https://www.roblox.com/games/8762785110/Survival-Games-Ultimate
Youtube: Alpha Engine
Survival Games Ultimate Expired Codes
These codes don't work anymore:
5KLIKES: Code reward > 200 Gems
LAUNCH: Code reward > 200 Gems
4KLIKES: Code reward > 200 Gems
3KLIKES: Code reward > 200 Gems
2KLIKES: Code reward > 200 Gems
200GEMS: Code reward > 200 Gems
250LIKES: Code reward > 200 Gems
1KLIKES: Code reward > 200 Gems
Survival Games Ultimate Codes – How to Redeem?
These are the steps to redeem codes
Launch Survival Games Ultimate on your PC or mobile device
Approach the Codes platform & interact / codes icon
Enter any of the provided codes (Valid codes list)
Click on Redeem
Enjoy your rewards
Visit us again soon for more rewards
See how the youtuber Gaming Dan Redeems these codes in this video:
How to play Survival Games Ultimate? Roblox Game by Alpha Engine
Welcome to Survival Games Ultimate! Check the Roblox Group to interact with them and click if you like the game.
Immersive Class-Based Fighting Game – The ULTIMATE Hunger Games On Roblox
Premium members receive bonus 25% AFK Gem Rate + Gold Chat Tag
Shutdown = Update/Bugfix (If matchmaking queue/teleports don't work it's probably just a Roblox issue so please be patient)
Controls (Customizable):

[Q] Drop Item
[E] Toggle Inventory
[R] Block (or RMB with camera locked)
[T] Special
[Z] Left Roll (or double tap A key)
[C] Right Roll (or double tap D key)
[LSHIFT] Sprint
[LCTRL] Camera Lock
[LMB] Use/Attack
About Survival Games Ultimate: you must win Matches, in order to win them you will recieve some rewards to upgrade or unlock classes, be the best to Climb The Ranks.
More Roblox Codes – Other Games
Have you enjoyed the codes? Looking for another game's codes? Find them here, more than 300 roblox games with their valid codes updated lists. But check these top games:
Survival Games Ultimate, by Alpha Engine, Roblox Game Site > Here