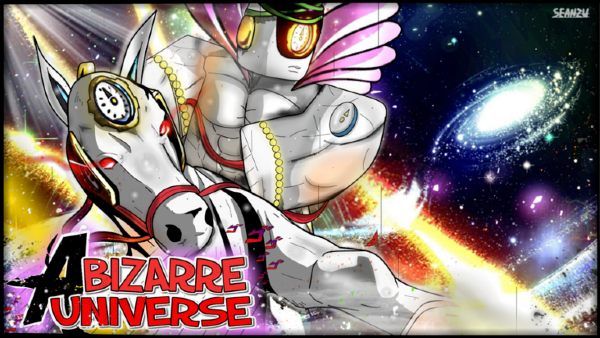 Last Updated on 31 May, 2023
All the valid A Bizarre Universe Codes in one updated list – Roblox Game by Untitled Unmastered – Redeem these codes for some Items, and more gift to improve
Other A Bizarre Universe guides: Trello Link & Wiki
A Bizarre Universe Codes – Full List
Valid Codes
Redeem these codes for some Items, and more gift to improve
These are the valid codes, join roblox group to use codes
10KLIKES! – Redeem code for some gifts
ThankYou! – Redeem code for some gifts
UPDATE2! – Redeem code for 3 Orbs – Stand Orb, Skill Removal, and Style Removal
MYFAULT! – Redeem code for 3 Orbs – Stand Orb, Skill Removal, and Style Removal
MYFAULTGANG! – Redeem code for 3 Orbs – Stand Orb, Skill Removal, and Style Removal
MINIUPDATE! – Redeem code for 3 Orbs – Stand Orb, Skill Removal, and Style Removal
10K! – Redeem code for 3 Orbs – Stand Orb, Skill Removal, and Style Removal
UPDATE! – Redeem code for 3 Orbs – Stand Orb, Skill Removal, and Style Removal
RELEASE! – Redeem code for 1,000 Cash
We will keep this codes list updated, stay tuned
A Bizarre Universe social media channels:
Twitter: ??
Discord channel: https://discord.com/invite/svMv56cngv
Youtube: ??
Join Roblox Group: https://www.roblox.com/groups/13110803/Untitled-Unmastered#!/about
A Bizarre Universe Expired Codes
These codes don't work anymore:
A Bizarre Universe Codes FAQ – How to Redeem?
These are the steps to redeem codes:
Launch Roblox A Bizarre Universe on your PC or mobile device
Press the M key on your keyboard to open the Menu
Click the Codes option in the Menu
Copy a code from our list
Enter it into the text box
Hit the Submit button to get your reward
See how the youtuber Gaming Dan Redeems these codes in this video:
How to play A Bizarre Universe? Roblox Game by Untitled Unmastered.
All codes are in the community server, including the first one:
zrVa8qDvZK
Next code at 5K Likes!
Welcome to A Bizarre Universe!
please report all bugs in the dis as well
[Update Log]
Release!
Controls:
XBOX compatibility only works with keyboard & mouse RT = shiftlock
Ctrl/Double W-Sprint, Ctrl/Shift-Shiftlock,
[Combat] Click/M1,M2
[Stand/Style Skills] E,R,T,C,V,X
[Dash] Q in any direction
[Summon Stand] Z
[Block]F
[Menu]M
Being Standless buffs fighting styles
Info:
Stand Stats:
When you unlock a stand, take a look at your Stand-Stats by pressing "M".
The following stats will be listed:
Development Potential,Power,Speed,Precision,Range and Durability.
Join our community server for information on updates, How to play, events and more.
More Roblox Codes – Other Games
Have you enjoyed the codes? Looking for another game's codes? Find them here, more than 300 roblox games with their valid codes updated lists. But check these top games:
A Bizarre Universe, by Untitled Unmastered., Roblox Game Site > Here