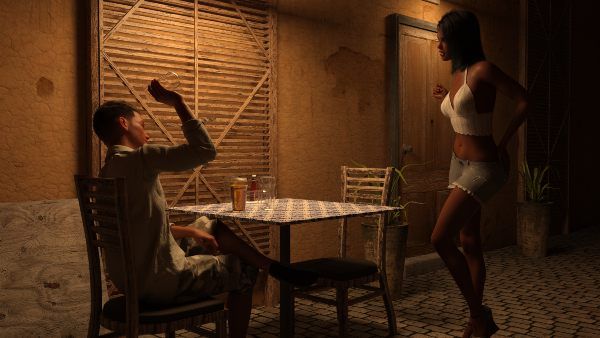 Last Updated on 29 May, 2022
Chasing Sunsets Walkthrough & Guide – Best choices to max your relationship points and unlock all the events and scenes of the game
Intro
These choices will max your relationship points during the intro
I kind of like it
I promise not dust ups
Throw her a bone
Let's try and olive branch
Nope, I've snooped enough
RUN, LUKE, RUN
Square up on him
Chasing Sunsets Walkthrough & Guide – Chapter 1
These choices will max your relationship points during Chapter 1
They would want us both involved
Respond Kindly
Investigate
SAVE and wake Linda, then load and Gently wake Erica
Gently wake Erica > Your choice
As well as can be expected
F with her
Carry I to the loge for help
I think you are beautiful
Max Points:
Mallory: 3 Trust & 3 Love
Jaye: 4 Trust & 4 Love
Chasing Sunsets Walkthrough & Guide – Chapter 2
These choices will max your relationship points during Chapter 2
I got your back
I would have welcomed that.
Kiss her
Let jay ask the first
How were things after… > How do you feel about… > the rest
…Yes. (Truth)
What do you think, Sis?
Great work.
Max Points:
Mallory: 5 Trust & 5 Love
Jaye: 10 Trust & 8 Love
Chasing Sunsets Walkthrough & Guide – Chapter 3
These choices will max your relationship points during Chapter 3
Text Fiona…
Why not both?
Be dominant
Mallory may have….
I can give you…
SAVE 1 here, and choose We'll have better odds
Raise Mallory's access level
Don't let him win
Call Jaye
Wanna Team up?
I don't Mind a low…
Tease her back
Kiss her neck
Relax I'm not angry
How do you think this will help > the rest
Yes, but not like this
Build anticipation
Kiss Her
Max Points:
Mallory: 13 Trust & 17 Love
Jaye: 15 Trust & 18 Love
Chasing Sunsets Walkthrough & Guide – Chapter 4
These choices will max your relationship points during Chapter 4
Reply
Encourage her
I think it's possible
I think it's worth considering
She was my mother
Split your lunch (+2 Love) or Save it (+1 Trust)
Kiss her
Any choice
I can come with you
Any choice
Poke the bear
Be vague, but honest
Thanks for making me the lunch (+2 Love) or Did i miss? (+1 Trust)
Save your sister
The bed fort
Here's why I really left
Go check on her
Max Points:
Mallory: 22 Trust & 29 Love
Jaye: 21 Trust & 29 Love
Chasing Sunsets Walkthrough & Guide – Chapter 5
These choices will max your relationship points during Chapter 5
Loop in Jaye
I could get used to it
I'm your huckelberry
I think we can work
There just hasn't been time
Be patient
It's just…you look nice
Call Mallory
Reasure her
Accepting
Kiss her
Lets make up
If I'm being honest, I like them both (+1 & +1 ) or choose one for +2
I guess I could do one
Game on! Let's feed
Let's kick this up
Stop her
Inside (+2 love) or outside (+1 Trust)
Max Points:
Mallory: 32 Trust & 43 Love
Jaye: 29 Trust & 44 Love
Chapter 6
These choices will max your relationship points during Chapter 6
(Not released yet)
Extra Scenes
Load SAVE 1:
Raise Mallory's access level
Don't let him win
Call Jaye
Any choice
Text mallory
I don't Mind a low…
Speak for yourself
Relax I'm not angry
How do you think this will help > the rest
Yes, but not like this
Build anticipation
Kiss Her
CHAPTER 4
Reply
Encourage her
I think it's possible
I think it's worth considering
She was my mother
Split your lunch (+2 Love) or Save it (+1 Trust)
Kiss her
Any choice
I can come with you
Any choice
Poke the bear
Be vague, but honest
Thanks for making me the lunch (+2 Love) or Did i miss? (+1 Trust)
Save your sister
The bed fort
Here's why I really left
Go check on her
CHAPTER 5.
Loop in Jaye
I could get used to it
I'm your huckelberry
I think we can work
There just hasn't been time
Be patient
It's just…you look nice

If lisa Love > 3: Well, there's always room for improvement
If Lisa Love <3: What might those be

Call Mallory
Reasure her
Accepting
Kiss her
Lets make up
If I'm being honest, I like them both (+1 & +1 ) or choose one for +2
I guess I could do one
Game on! Let's feed
Let's kick this up
Stop her
Inside (+2 love) or outside (+1 Trust)
Other Walkthrough: