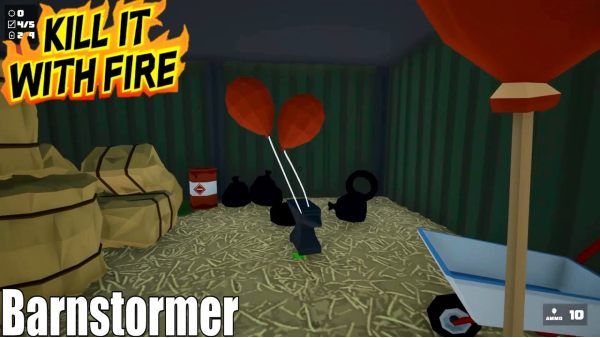 Last Updated on 6 January, 2022
Kill It With Fire Barnstormer Guide – Objectives, Batteries, Upgrades & Achievements – Complete the level 100% with this guide
There are x5 objectives, x9 batteries and x2 Upgrades in Barnstormer Level
Other Level's Guides: First Contact, Close Encounters, Domestic Duties, Garden of Evil, Major Inconvenience, Paper Trail, Contingency Omega, Consequences, Down The Spider Hole
Kill It With Fire Barnstormer – Objectives
These are all the objectives in Barnstormer:
Regicide: kill 3 queen spiders
Master gardener: shatter 20 pots (and vases)
Slash and burn: burn 15 hay bales
The 'ol classic: drop the anvil on a spider
Bountiful harvest: pick 23 vegetables
Kill It With Fire Barnstormer – Batteries
These are all the Battery Locations in Barnstormer:
under the VEGES sign > under the sacks
Between the hay bales
Under the VEGES sign (greenhouse) > in a box
behind the hay bales (shed with anvil)
Left portable toilet > behind the seat lid
Greenhouse > back left corner
Under the table with pots
Tractor > Tool Table > in the tray on the shelf
Behind the round hay bales (right of exit)
Kill It With Fire Barnstormer – Upgrades
These are all the Upgrades in Barnstormer:
Holster: in the chest by the flower vases
Reflex Sight: Barn > cabinet
Equipment
Flashbang Grenade: Inside the Garage (Requires 10 Spider kills to unlock). Sitting on the left side of the table.
Balloon: In the area to the right of the Garage, tied to a cement block (really hard to miss)
Assault Rifle: To the left of the port-o-potties are 3 stacked hay bales that you need to burn to reveal the box this weapon is in. You'll need to complete 3 Objectives to unlock the box.
Flavors
Sticky Lemon – Inside the rightmost port-o-potty (requires 35 Spider kills to unlock). This one turns Spiders into Web Spiders.