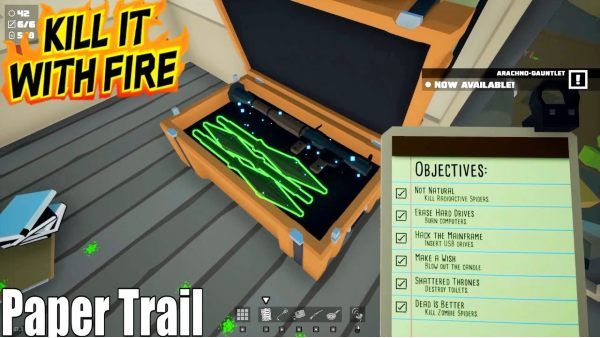 Last Updated on 6 January, 2022
Kill It With Fire Paper Trail Guide – Objectives, Batteries, Upgrades & Achievements – Complete the level 100% with this guide
There are x6 objectives, x8 batteries and x2 Upgrades in Paper Trail Level
Other Level's Guides: First Contact, Close Encounters, Domestic Duties, Garden of Evil, Major Inconvenience, Barnstormer, Contingency Omega, Consequences, Down The Spider Hole
Kill It With Fire Paper Trail – Objectives
These are all the objectives in Paper Trail:
Not natural: kill 5 radioactive spiders
Erase hard drives: burn 8 computers (gasoline)
Hack the mainframe: insert 8 USB drives (Pizza guy picture, Chair, Computer, Picture of the lady with cat, Garbage can, Shelves, Cart to the right of the desk, Monitor)
Make a wish: blow out the candle (Fire Extinguisher)
Shattered thrones: destroy 6 toilets
Dead is better: kill 10 zombie spiders (radioactive spiders create zombies)
Kill It With Fire Paper Trail – Batteries
These are all the Battery Locations in Paper Trail:
Reception desk > top left drawer
Table between chair & couch
Cubicle room > Right > 2nd shelf from bottom > behind the paper
Far left cubicle > behind the monitor
It Room > behind the picture of the lady
Left urinal
Break Room > microwave
Conference room table (above the upgrade)
Kill It With Fire Paper Trail – Upgrades
These are all the Upgrades in Paper Trail:
Laser: men's bathroom > next to the right stall
Flashlight: Conference room > under the head of the table
Equipment
Fire Extinguisher: Underneath the sink in the Break Room.
RPG: Inside the yellow crate in the room with the Radioactive Spiders. You need to complete 4 Challenges to unlock it.
Flavors
Royal Grape – Inside the vending machine in the Break Room. This one turns Spiders into Queen Spiders