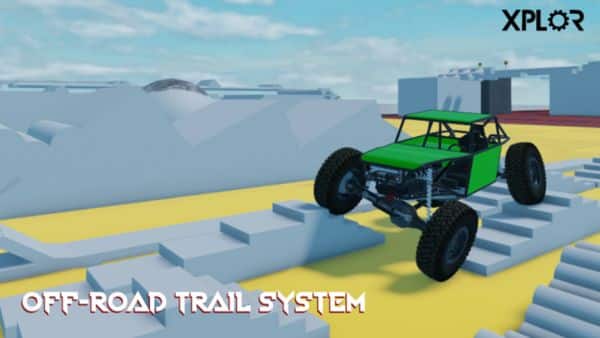 Last Updated on 31 August, 2023
All the valid Off-Road Trail System Codes in one updated list – Roblox Game by XPLOR – Redeem these codes for some in-game money, consumables, boosts, cosmetics and more
Off-Road Trail System Codes – Full List
Valid Codes
Redeem these codes for some in-game money, consumables, boosts, cosmetics and more
These are the valid codes,
15KLikes– Code reward: $100
4MVisits– Code reward: $100
There are currently no codes in the game, we will let you know as soon as they are announced and the first one comes out. We hope that it will be in the next few weeks, so we recommend that you visit us from time to time to see if we have updated this article.
We will keep this codes list updated, stay tuned
Off-Road Trail System social media channels:
Twitter: @korky5000
Discord channel: https://discord.com/invite/vDfUEmQQTe
Youtube: https://www.youtube.com/channel/UCtZMMVc6JWGQuO40FJ_zQLw
Join Roblox Group: https://www.roblox.com/groups/4745869/XPLOR#!/about
Off-Road Trail System Expired Codes
These codes don't work anymore:
FAQ – How to Redeem?
These are the steps to redeem codes:
Launch Roblox Off-Road Trail System on your PC or mobile device
Open the Settings menu (left side)
Press the green arrow
Type your codes into the text box
Press Redeem
See how the youtuber Gaming Dan Redeems these codes in this video:
How to play Off-Road Trail System? Roblox Game by XPLOR.
Off-Road Trail System is a realistic, open-world, immersive experience. Drive a wide range of various cars with various levels of suspension over various terrains. If you enjoy the game, please leave a like; this is the best method to attract additional players.
Use code 15KLikes
Release 2.5.18
Driver, Passenger Animations
Frison ATX320 Flatbed full length bed rails
Frison ATX320 versions recieved recovery hooks
Mudflaps more realistic
Bug Fixes
Vehicles disappearing and set to nil
Legacy Version is under the XPLOR group
Play at your own risk. XPLOR is not held accountable for any damages or injuries to your device
Tags: Offroad, Offroading, Jeep, Ford, Rock Climbing, Rock Crawling, Suspension, MudRunner, SnowRunner, Forest, Mountains, Cars, Vehicles, Immersive, Beautiful, Multiplayer, VR, 4×4, 4WD, Realistic
More Roblox Codes – Other Games
Have you enjoyed the codes? Looking for another game's codes? Find them here, more than 300 roblox games with their valid codes updated lists. But check these top games:
Off-Road Trail System, by XPLOR., Roblox Game Site > Here