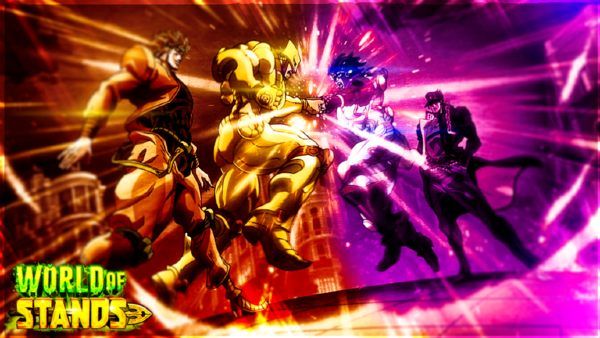 Last Updated on 15 March, 2023
All the valid World of Stands Codes in one updated list – Roblox Game by SpicyWater – Redeem these codes for coins and currencies, exp, stand skins, abilities, boosts and more free gifts
Other Roblox World of Stands guides: Tier List, Trello Link & Wiki
World of Stands Codes – Full List
Redeem these codes for coins and currencies, exp, stand skins, abilities, boosts and more free gifts
Valid & Active Codes
These are all the valid codes
PASSIONE – Redeem code for some rewards (Level 20 Required) (New)
SHINYENJOYER – Redeem code for some rewards (Level 15 Required) (New)
The codes will be released when the official version of the game is released, which is currently in the demo phase. If some code comes out for the demo we will put it here, but in principle we have to wait for the final version.
World of Stands Social Media Channels
Discord: World of Stands
Twitter: @SpicyWaterRBLX
Youtube: ??
Roblox Group: https://www.roblox.com/groups/6069796/SpicyWater#!/about
Expired codes
There are currently no expired codes
THX4WAITING – Redeem code for some rewards
100KDISC – Redeem code for some rewards (Level 20 Required)
REDEMPTION – Redeem code for some rewards (Level 15 Required)
SHINYPLS – Redeem code for some rewards (Level 10 Required)
NIIICE – Redeem code for 7500 Gold & 2 Loca fruits
TIKTOK30 – Redeem code for some rewards
WOSRELEASE1 – Redeem code for 1 Shiny Arrow
World of Stands Codes – How to Redeem?
Launch Roblox World of Stands and click on the Menu Button (bottom of the screen), and tap on the settings button to open the redemption window. Copy a code from our valid codes list and paste it there, then tap on the redeem button
Here you can learn to redeem codes (video by youtuber Gaming Dan)
How to play World of Stands? Roblox Game by SpicyWater
Game closes during Weekdays for Development
Welcome to the World of Stands Demo
World of Stands is an Open-World Adventure & PvP Game inspired by the hit animated series "JoJo's Bizarre Adventure"
This is just a demo, this is not the full game, your data will not carry over into the main game (gamepasses will)
Use a Stand Arrow and obtain your own Stand Ability
Battle strong bosses & enemy stand users
PvP against your friends or queue up for a match
Complete quests to level up your Stand & Character
Explore the map and find all of its secrets
Try to collect all the rare *Shiny* Stand skins
Version: 0.1.2
Sprinting, Bug fixes, and Balancing Changes
Check out our socials linked below to keep up to date with ALL news relating to the game!
Game is optimized for 5 in-game Volume
More Roblox Codes – Other Games
Have you enjoyed the codes? Looking for another game's codes? Find them here, more than 300 roblox games with their valid codes updated lists
World of Stands, by SpicyWater > Here