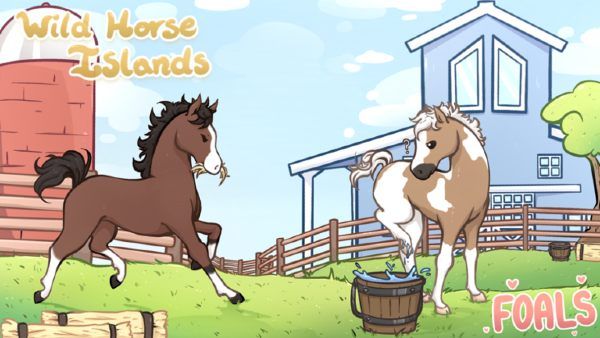 Last Updated on 2 February, 2023
Wild Horse Islands Special Coats Guide – How to get, all the special coats, potential combos and new special coat colours
Other Wild Horse Islands Guides: Percheron, Codes, Friesian, Personalities
Wild Horse Islands Special Coats Guide – How to get?
The term "special coats" refers to coats that are unique to bred horses. Only certain coats can be bred together to create these horses. The only aspect of the horses' coats that matters is their breed, which is irrelevant.
Note: The breed of the special coat outcome will be based on the breed of the breeding mare. For instance, you would utilize a female Arabian if you wanted a Chocolate Palomino Arabian. As of right now, it doesn't matter what kind of stallion it is.
Wild Horse Islands Special Coats Guide – Full List
These are all the special coats and the combos through which you can get them
Chocolate Palomino Special Coat:

Liver Chestnut+Gulblakk
Liver Chestnut+Any Palomino

Sooty Buckskin Special Coat:

Buckskin + Dapple Grey
Buckskin + Dapple Palomino
Dapple Buckskin + Any Dapple
Dapple Grey Overo + Dapple Buckskin
Dapple Grey Overo + Buckskin Sabino

Bay/Grey Chimera Special Coat:

Black Sabino + Dapple Grey
Black Sabino + Dapple Palomino
Bay Sabino + Dapple Palomino
Bay Sabino + Dapple Grey

Bay Brindle Special Coat:

Bay + Chestnut Rabicano
Bay + Grulla
Grey Brindle + Any Bay
Bay Roan + Grulla

Grey Brindle Special Coat:

Grulla + Any Grey
Bay Brindle + Any Grey
Black Rabicano + Dapple Grey
Black Rabicano + Gra
Black Rabicano + Blue Roan
Bay/Grey Chimera + Bay Brindle
Chestnut Rabicano + Dapple Grey

Black Overo Splash Special Coat:

Black Overo + Leopard
Black Overo + Black Sabino
Black Overo + Black Pinto (Friesian's coat)
Black Overo + Black Rabicano

Steel Grey Special Coat:

Black Rabicano + Grey Blanket
Black Rabicano + Blue Roan (Percheron coat)
Black Rabicano + Dapple Grey (Clydesdale coat)
Black Rabicano + Bay/Grey Chimera
Black Rabicano + Dapple Grey Overo
Black Rabicano + Gray Tobiano

Chestnut Medicine Hat Special Coat:

Black Splash Overo + Chestnut (Percheron coat)
Black Splash Overo + Red Roan
Black Splash Overo + Peacock (legacy & new [v1 & v2])
Black Splash Overo + Chestnut (Clydesdale coat)
Black Splash Overo + Chestnut Rabicano
Black Splash Overo + Chestnut (Appaloosa coat legacy [v1]
Black Splash Overo + Chestnut Blanket

Fleabitten Special Coat:

Bay/Grey Chimera + Red Roan Blanket

Black Reverse Dapple Special Coat:

Dapple Grey Overo + Any Black (is known to be bugged at the moment)

Reverse Bay Brindle Special Coat:

Ulsblakk + Bay Brindle
Leopard (Appaloosa coat legacy [v1]) + Bay Brindle
Black Leopard + Bay Brindle
Cremello + Bay Brindle
White + Bay Brindle
Chestnut Medicine Hat + Bay Brindle

Reverse Bay Brindle Special Coat:

Ulsblakk + Bay Brindle
Leopard (Appaloosa coat legacy [v1]) + Bay Brindle

Liver Chestnut Overo Special Coat:

Black Overo + Liver Chestnut (V2 coat)
New Special Coat Colours
In this Koolie Reviews video guide you can see the New Special Coat Colors and how to get them