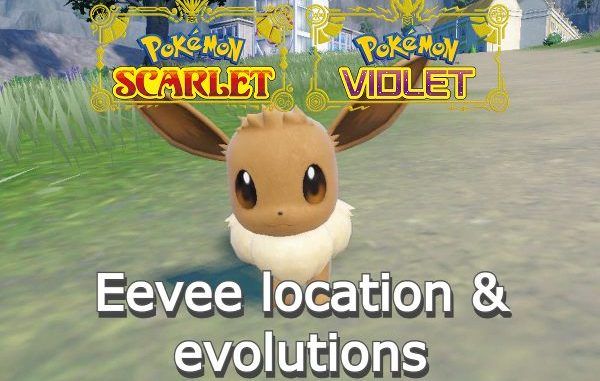 Last Updated on 28 November, 2022
Eevee location in Pokemon Scarlet and Violet – Game by Nintendo – Eevee location & Eevee evolutions in Pokemon Scarlet and Violet, all info that you need to know.
Other Pokemon S&V Guides: Mystery Codes, evolve Charcadet, Treasure Hunt, Day and Night, Sandwich Recipes, Trade Codes, Amulet Coin, Mystery Gift Codes
Main Info
Fortunately, Eevee isn't too far away if you know where to look, and you can explore wherever you like.
Additionally, you can unlock all evolutions, allowing you to quickly obtain an Umbreon or Sylveon (the two greatest options).
Eevee location in Pokemon Scarlet and Violet – Map
The fluffy little thing is accessible in the locales listed below, in addition to the Pokémon Scarlet and Violet tera raid battles that are now available with various types of Eevee.
South Province (Area Two)
West Province (Area Three)
South Province (Area Five)
Go to the bug-type Gym's location, Cortondo, is the simplest and quickest way to get an Eeevee early on. Simply exit Mesagoza through the west gate and proceed across the main path to reach this location on the west of the map.
Once you arrive in Cortondo, walk through the main part of the settlement until you come to a row of olive trees on your left. Smoliv, Skwovet, and Diglett are among the Pokémon that can spawn here, but more significantly, Eevee can also be found as a rare spawn. It shouldn't take long for it to appear, and because it tends to be caught in this region at levels ten to twelve, it shouldn't be too difficult.
If not, you can also locate Pokémon Scarlet and Violet's Eevee evolutions around Paldea's vast terrain. A wild Jolteon has so far been seen on the cliffs close to the Bombirdier titan battle, and a Vaporeon is frequently seen swimming in Casseroya Lake.
Check the following video if you want to be sure to find eevee, thanks to Gamer Guru
Eevee evolutions in Pokemon Scarlet and Violet
In Scarlet and Violet, all of the primary techniques for Eevee evolutions are still the same, and the most call for using goods that can be purchased from stores or befriending the Pokémon at a specific time of day. All of them are listed below.
Flareon > Evolve using fire stone
Vaporeon > Evolve using water stone
Jolteon > Evolve using thunder stone
Umbreon > Evolve using increase friendship level at night after level 25
Espeon > Evolve using increase friendship level during the day after level 25
Glaceon > Evolve using ice stone
Leafeon > Evolve using grass stone
Sylveon > Evolve using must know one fairy-type move after level 25
Abo

ut Pokemon S&V
But you can change (if you want) to make it day or night in Pokemon Scarlet and Violet, check links