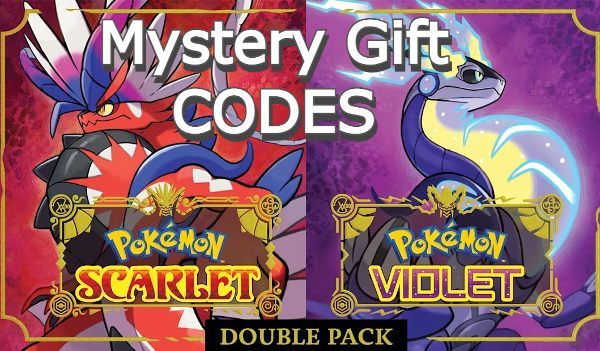 Last Updated on 17 November, 2023
Pokemon Scarlet & Violet Mystery Gift Codes – Game by Nintendo – All the available promo Mystery Gift Codes – Redeem these codes for some pokeballs, Pokemon, diamonds, consumables, boosts and more
Redeem these codes for some pokeballs, Pokemon, diamonds, consumables, boosts and more
Other Pokemon S&V Guides: Charcadet, Treasure Hunt, Day and Night, Sandwich Recipes, Trade Codes, Amulet Coin, Exclusives List
Pokemon Scarlet & Violet Mystery Gift Codes – Full List
These are all the available Mystery Gift Codes:
All of the current Pokémon Scarlet and Violet Mystery Gift codes are shown below, along with instructions on how to enter them and redeem your gifts.
We'll keep this list of valid codes up to date, so keep following us as we'll add each new code as soon as it's available.
Pokemon Scarlet & Violet social media channels, the channels from which they announce the codes:
Although you do not need to follow them if you do not want to, we will keep the list updated
Expired Codes
These codes no longer work:
Pokemon Scarlet & Violet Mystery Gift Codes – How to use?
These are the steps to redeem codes:
Launch Pokemon Scarlet & Violet on your Device
In the Main Menu > Poke Portal > Mystery Gift
Click via Internet > pick the gift that you can see / Click on with Code
Enter your valid Pokemon Scarlet & Violet gift code and confirm
That's it, you have claimed your free rewards
Pokemon Scarlet & Violet Mystery Gift Codes – How to get

Special Pikachu?
Players of Pokemon Scarlet and Violet can receive a Special Pikachu as a Mystery Gift, and no code is required to get it. You must purchase any game (Scarlet or Violet) from the moment of release through February 2023 in order to unlock it and claim your prize. Given that Pikachu is one of the most well-known Pokemon, giving fans this mascot as a gift makes logical.
Additional prizes include the adventure set filled with goodies and the 100 extra Pokeballs, both of which require a mystery gift code. To learn how to get them, continue reading.
Pokemon Scarlet & Violet: How to Get Flying Pikachu (Limited Time Gift)
As the heading indicates, this Pikachu is unique since it can fly. It's a Tera Type Pikachu, which is what sets it apart from other Pikachus since the normal Pikachu is unable to learn the Fly move. Purchase either game during the Pikachu event and redeem the prize before the promotion expires.
Flying Pikachu Time Frame From November 18 2022 to February 28 2023, players can acquire the flying Pikachu.
About Pokemon Scarlet & Violet
Welcome to Pokémon Scarlet and Pokémon Violet are the latest 2022 role-playing video games Codes
You'll be able to obtain several Poké freebies over the upcoming months (and years! ), as Mystery Gifts are returning for Pokémon Scarlet and Violet. We'll be keeping a handy list of all the special distributions that The Pokémon Company and Nintendo will be releasing for the games in order to give fans special incentives.
Pokemon SV Mystery Gift Code
Before February 28, 2023, you can get an Adventure Pack Set, which includes the following items:
x10 Potion
x5 Full Heal
x3 Revive
x3 Ether
x1 Rare candy
x1 Nugget
This is not required to have a code and is only good through March 7th, 2023.
Flying Pikachu Variant
The flying Pikachu has already appeared in a few spinoff games. It was known as "Balloon Pikachu" on Pokemon Snap because it soars with the aid of several vibrant balloons. Additionally, it appeared in Pikachu's Adventure, Pokemon Go, Pokémon Puzzle Challenge, and Pokémon Dash in PokéPark Wii.
How to Purchase Additional Pokeballs and Potions
100 more Pokeballs are included in the Double Pack version of the Pokemon Scarlet & Violet game. There is no expiration date and no code required.
In addition to these, you can get 100 Extra Potions by purchasing the Pokemon Scarlet & Violet strategy book. This has a code that can be used to redeem it.
Other Codes Guides