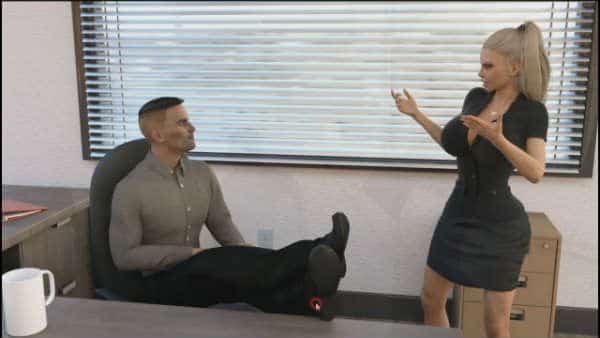 Last Updated on 6 September, 2023
Welcome to My Cute Roommate Walkthrough & Guide, where we will provide you all the choices and secrets to reach the highest levels to unlock all the scenes in the game
My Cute Roommate Walkthrough – Intro
To begin you have to unlock tasks, so go to every location available (College, Library, Store..) and talk with every NPC yo find (your roommate, Emily, Dean, Anna…). Try to be polite, don't worry too much about hearts but be careful (clean your bathroom, don't wake up your roommate at night…), and focus on unlocking new events (like we are going to explain you) with each character. But take in mind that all the characters paths are related and you have to progress through all of them at the same time
My Cute Roommate Walkthrough – FAQ
Jamal: he will give you all the pills, the ratcatcher and the massage oil. To find him > donate (doctor) on the floor > walk at evening (city) > fight and find Jamal.
D*ck laptop password: 1234 (* = i)
Screwdriver: progress through shopkeeper's path
Health certificate: You will get it in the late game, so don't worry too much about it and progress through the character's paths
My Cute Roommate Walkthrough – Roommate
Talk with her every time you have a chance (20:00 kitchen, 22:00 her room…), ask her about books & clothes and buy everything she wants.
Drone: Buy it and use it when you wake up to spy on her window
When she goes to the shower is better not to click on her robe
Shower: Peek on her once you have the oil for the door and the screwdriver
Drone: After her shower use the drone again (her window)
When you get the stretching clothes wake up & enter her room (don't knock)
Give her the Satin clothes
Drone: use it again when she comes home (19:00)
TV (requires 1 heart): Buy the 4 DVDs (store) and askher to watchcollegegirl4 (evening)
Photoshoot: after 2 photoshoots with Emily (check her path), watch TV with your roommate to unlock the first photoshoot with her. But if you give her the camera she will break it (up to you). So it's better make her more photos instead: fix her hair, click on the knot (dress)…
Photoshoot II: go to her room at 22:00 for another one
Talk with her in the kitchen to unlock her office.
Roommate or Cousin – Sleeping Pills Guide
Her room (night – when she is sleep and after you give her satin clothes): Pull up her robe but don't go for the full scene, now you can ask Jamal for sleeping pills.
Coffee: Buy it at the store and give it (with the sleeping pills) to her (kitchen – 20:00)
Now you can go to her room and unlock the full scene
Dream I: Next day (requires potency = max) go to sleep, if your indicator is up, you will get a dream scene
Dream II: Do the same the next (or another) night, and the scene will be better, she will wake you up
Better pills: Now you can buy and put s*ex pills into the coffee (kitchen – 20:00)
After the last pills, go to her room at 22:00 and ask her if she wants a massage
Massage: Massage oil > shoulders > back > legs > buts > turn over > belly > breats > legs > enjoy…
Derek (requires library3scene & try to blackmail the director also): Now you can ask derek to search the red folder
Pool: Use the massage oil on Barbara > bra > sunscreen > repeat until you unlock it
Once you get the red folder, talk to your roommate at her office
Then go to talk with the director
Get another medical exam (doctor): Requires you have completed the 9 girls task
Roommate or Cousin – Health Certificate Guide
After the last medical exam you have unlocked the health certificate, so you can submit the documents (college)
Dream III: unlock more dream scenes (same requirements as previous dreams) and a bonus scene (Emily + Roommate) next day
Meet Barbara (18:00 – Home)
My Cute Roommate Walkthrough – Emily
You will meet her at home, right after your roommate leaves, you will unlock the 1st Photo shoot, but ask for more photos
2nd Photo Shoot: Buy the photography book, the camera, and all the costumes, then go to her apartment (17:00). Make her photos with the Cowboy, Harley Quinn and Ninja Costume, then make her photos without any costume also
Emily + Roommate photo shoot: Complete all the Emily & Roommate individual photo shoots, to unlock the duo photo shoot, them meet Emily again at 17:00 (her apartment)
Gym > learn to fight > max strenght and meet Emily again at 17:00 (her apartment), defeat your foe and get her reward
Emily's offer: After she rewards you, if you have already blackmailed the director, she will make you an offer
Talk with your roommate about Emily's offer at home
Tak to the director (office) > give her a reason (doctor)
Last Photo Shoot: Emily's apartment at 18:00
My Cute Roommate Walkthrough – Anna
Library (she is the librarian) > compliment (eyes) > ask (she looks so bored) > give her all the books she wants (3)
Get caught (her mother) and talk to Dean (College)
Go to Barbara's house
Drone: Upgrade it and use it at night (pool)
Meet Barbara's mother > talk to Barbara > send Anna home
Library > she will help you to translate the book
Talk to her about her mother > Barbara to the library
Ask Anna to see your ….again > then about a complete scene
Give the book from the secretary to Anna
Next day buy the lu*be and enjoy
Send Barbara to the library > Drone (night – director's bedroom) > Blackmail Derek
Once Barbara agree, go to the library and meet her
Get the medical examination from the doctor
Library > ask Anna for a scene, but save and try both
Her dorm > college customs
My Cute Roommate Walkthrough – Dean
College > ask her how to increase intellect and unlock the library
Progress through Anna's path until you bring her home and talk to Dean
Progress through Anna's path until you talk with her about her mother, go to College and use Fear, leave her alone, visit her again and enjoy
Submit the documents: Requires 20 intellect and Health certificate
Progress through Roommate's path until you can go to the dorm, refuse it and go to the dorm to check
My Cute Roommate Walkthrough – Shopkeeper
Ask her to show you everything
Ask her for help, she will tell you she will be at the store at night (23:00), visit her at 23:00, enjoy and get the screwdriver
You can only go further once you have the Health certificate, so progress through other paths first
My Cute Roommate Walkthrough – Jenny ( Secretary)
Unlock the office (Roommate's path) and make the photos for the website.
Find the red folder (d*ck's office) and offer her more photo shoots (* = i)
Progress through Director's path until you can make some photos in her office, you will get an scene and the Book
My Cute Roommate Walkthrough – Trainer
Watch trainer (gym morning & evening)
Massage I: Ask her to teach you fight, buy the massage's book (store), read it, massage her and learn to fight
Massage II: Buy the er*tic massage book (store), progress through Anna's path until she helps you to translate it, get the massage oil from Jamal. Use the massage oil and also click on the center of her lower back
My Cute Roommate Walkthrough – Nurse
Meet D*ck: Stay home (day 2), meet him and you will unlock the doctor (* = i)
Go to the doctor, unlock some tasks and donate, but first time donate on the floor
Ask Jamal for S*ex pills, use them before the nurse helps you and unlock more scenes
My Cute Roommate Walkthrough – Director
You will meet the director once you unlock the office (roommate's path)
Director – Ratcatcher & Rats Guide
Then progress with Secretary (Jenny) until you make her some photos at 19:00, find out her fear, buy the ratcatcher (store) and catch some rats with Jamal.
Ask to the secretary for more photos (morning) and come back at 19:00 again
Director – Password Guide
Free the rat, go to D*ck's office, use the password: 1234 and use his laptop (* = i)
Drone: use it in Director's bedroom
Ask to the secretary for more photos (morning) and come back at 19:00 again
Talk to the Director about the photos (avoid police)
Progress through Anna's path until the Library3scene and talk to Derek (Barbara's place). He will be busy, and you can go to the pool and use the Massage oil on barbara
Director – Documents Guide
Give the folder to your roommate (office) and then show the red folder to the Director
My Cute Roommate Walkthrough – Barbara
Barbara doesn't have her own path, but if you want to unlock all the scenes with her progress through Your roommate's path, Anna's path and director's path
If you want more walkthroughs & guides:
For more Walkthrough and Endings guides you can also check: