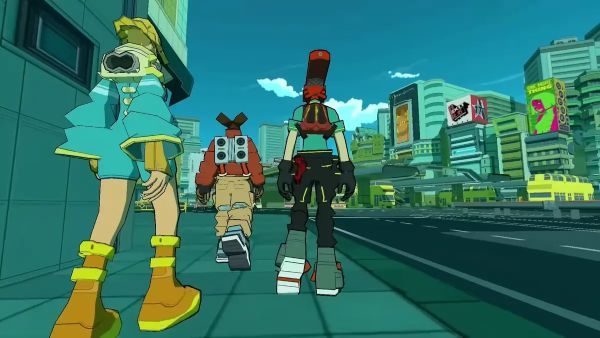 Last Updated on 24 August, 2023
How to Unlock All Characters in Bomb Rush Cyberfunk – Locations and requirements to unlock all the available characters – Main Storyline and Post Game
More Bomb Rush Cyberfunk Guides: Outfits
How to Unlock All Characters in Bomb Rush Cyberfunk – Main Storyline
Unlock Rave
Rave will be available for recruitment at the Verdum Hills subway stop. You must complete three of her trials before you may hire her. Following completion of her first task, follow her to the bazaar area and beat her score. She will then proceed to the hiding place. Find her there and win a race she challenges you to, and she will finally approach you about joining you.
Unlock Shine
To obtain Shine, head to the Millennium Mall's food court area (the second area). The first obstacle will be to imitate her dance. Following that, follow her to the second floor of the food court and then to the record store, where you'll receive a text from her saying she's in the Theater Hall.
Go to the third floor of the food court to get another message from her. She'll direct you to the warehouse, near the food court where you initially encountered her. If you talk to her there, she'll be recruited.
Unlock Vinyl & Solance
Vinyl, and will be recruited by finishing the main plot, therefore there is no additional action required to obtain these characters.
Unlock Mesh
Mesh can be found in Brink Terminal on a large platform with teal tiles. Speak with him, accomplish his challenge, and then seek him out near a towering tower in the region. He will challenge you to a score battle. Beat him again, then proceed through a tunnel close to the canal to the bridge.
Mesh will inform you that he has lost his skateboard and that you must clear the canal to assist him. You can accomplish so by passing through an entryway guarded by an Oldhead (140 Rep required) and then grinding on a billboard towards the control room. Mesh will join your crew once you finish this mission.
Unlock Rise
Rise may be found near the far end of Pyramid Island, and the first thing you should do is take some pictures of her with your phone. After you finish, go ahead and climb the bridge above her, and she'll contact you to tell you that you need to climb to the top of the entire building. You'll find her near a spiral, where she'll urge you to photograph her once more.
As a last test, she will ask you to tag a location. When you do this, she will become available for recruitment.
How to Unlock All Characters in Bomb Rush Cyberfunk – Post Game
Unlock Coil
Enter an alley in Mataan and look for Coil. Your first goal after finding him will be to emulate his dance. After that, proceed to the large gold statue, where you will receive a text stating that he is on the island in the Mataan River. When you arrive, you will not see him and will need to travel to the strip's entrance where you will receive another SMS from him stating that he is back in Mataan.
Following this brief chase, you'll ultimately be challenged by him. Enter the golden statue and he'll be dancing to your left. He will challenge you to a race, and if you win, he will invite you to join him.
Unlock Flesh Prince
Flesh Prince will also be present in Mataan, with the slider entrance. When you chat to him, do the popping dance, and he will join you.
Unlock Frank
Frank will be relaxing in the big plaza at the summit of the Verdum Hills. He will set one challenge for you to complete in order for him to join.
Unlock Rietveld
To find Rietveld, go to the basketball court close to Frank's refuge. You will need to accomplish a boss fight with the police before you can talk to her. After defeating the police drone and various on-foot policemen, you will be able to hire Rietveld.
Unlock Futurism
In Mataan, Futurism will be hanging out near to the large golden monument. Complete the challenge she assigns you, and she will gladly join you.
Unlock DOT EXE
To obtain DOT EXE, proceed to the Theater Hall and look for him at the entrance. Completing his flow challenge will entice him to join you!
Unlock DJ Cyber
Grind the billboards in Millennium Square to reach a building where DJ Cyber can be found. He will set a scoring challenge for you to beat before joining you.
Unlock Eclipse
Eclipse may be found in the Brink Terminal. Simply said, you only need to accomplish one of her challenges to unlock her.
Unlock Devil Theory
Devil Theory will transport you to the Pyramid Island's second level. All you need to do is finish his task, and he'll gladly join you.
Unlock Oldhead
You will obtain Oldhead by tagging every graffiti location in the city. It may not be the quickest task you can do, but it is surely one of the easiest.
Unlock Felix and Red
Once you've completed the game, you'll be able to find Felix and Red on any dancefloor.
Unlock Base and Jay
Base and Jay can only be unlocked by purchasing the $5 DLC Bomb Rush Cyberfunk DLC – Base & Jay.
More Unlock guides: