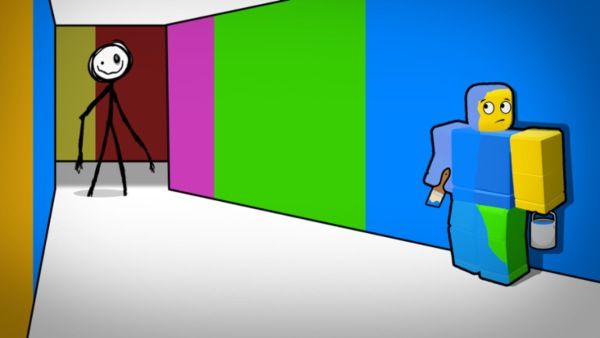 Last Updated on 10 July, 2023
Roblox Color or Die Map – An unofficial game map, along with Colors And Door Locations, tips and explanations
More Color or Die Guides: Codes
Roblox Color or Die Map
There is no official map for the game, so thanks to Reddit user u/OmniLeader for doing it himself with ms paint. Click on the image to enlarge the map
Roblox Color or Die Map –

Colors And Door Locations
Red, Orange, Yellow, Green, Teal, Blue, Pink, Purple, White, and Black are the other nine hues in this game. To open the door of the correct color, you must utilize each color. (For instance, you must open the red door since you are red.) You'll be exposed as soon as you unlock that door. Unless you subsequently locate a fresh paint color, you won't be able to hide on walls.
You should be aware that the red, orange, yellow, and green doors are interconnected if you're new to the game. Move to either side of the safe zone spots once you spawn and take the red paint. It makes no difference which side you switch to. Red walls are glowing, as you'll see. This is where you'll be hiding. You will conceal yourself from the Entity by pressing your character against the red wall.
If the yellow door is on your left side of the screen, turn right when you see it. The red door is located on the right side of the yellow door. Move to the right because orange is beyond the red door. Use the left if you come to a fork in the road (two walls). The orange wall is visible there. There ought to be no more intersections to the right of orange. To find green, continue down the corridor.
With the use of a screwdriver, you may unlock the teal door that is located inside the vent. You will receive a paintbrush and a puzzle piece as a result. The vent is in front of the red door, next to the wall, and the screwdriver is inside the red door.
The blue door is adjacent to a stairway in the top-left area of the map. The purple door is also on the far left. It is past yellow but to the left of red.
In a massive intersection, pink is on orange's left side and to the right. Also check this guide in spanish
About the game
Color or Die…
To avoid dying, stand beside the wall that is your color. To win, locate every color!
Navigate the maze to get away from the monster.
We appreciate you taking part in the early phases of our game. We're always developing new features and upgrades to improve your gaming experience. Keep checking back for more great content to come!
More Maps: