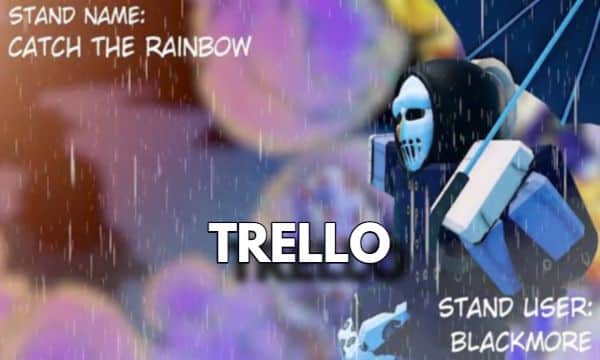 Last Updated on 9 October, 2023
YBA New Universe Trello Link & Wiki Join to the Community – Official link of Trello, the most complete wiki of the Roblox Bizarre Studios NU
Also check Codes
YBA New Universe Trello Link & Wiki Join to the Community – Official Trello
Trello Link & Wiki – YBA New Universe: https://trello.com/b/Ul1olzJo/yba-new-universe
YBA New Universe – Wiki
If you are looking for guides or a wiki of the game nothing better than Trello, the information is official, it is supervised by the creators of the game, and it is up to date. You may need other additional guides for certain things, but 90% of your doubts should be solved with Trello
Explore the dynamic universe of Roblox YBA New Universe (NU), a gaming experience available on Xbox, PC, and Mobile platforms. The official YBA NU Trello provides comprehensive guides, handy tips, and the latest tier lists, making it your one-stop information hub. And also, check Codes
Here's a breakdown of what you can find on the YBA NU Trello:
Detailed descriptions of game items and obtainable weapons.
Comprehensive knowledge about stands and their evolved forms.
Explanation of varied fighting styles and advanced techniques.
In-depth insights into races, mobs, and NPCs, including those with storyline roles.
Diverse locations within the YBA NU game universe.
Shinies and their evolved variants, purchasable staff shinies, and unique custom shinies.
Information about mod specs and unobtainable abilities.
Outline of different game modes.
Trello FAQ
Basic Game Mechanics
Blocking: (Hold F to block damage, some attacks cannot be blocked.)
Parrying/Perfect Blocking: Holding F in a perfect timing will reflect a heavy punch or R attack and stun the attacker.
Skill tree: You get skill points every time you level up and you can opens the 3 different skill trees when pressing Menu then Skill Trees. You can use the skill tree to get abilities and to upgrade your character. (Some of them are locked like the stand skill tree until you get a stand).
Posing: Posing makes you heal much faster. (P)
Dashing: Allows you to move fast in a short burst, you can dash in 4 different directions, left, right, forward, backward. (ALT)
What are Stands?
A Stand is a visual manifestation of life energy, unique to the JoJo's Bizarre Adventure series.
A Stand is an entity physically generated by its owner, referred to as a Stand User. It generally presents itself as a figure hovering over or near the user and possesses abilities beyond that of an ordinary human, which, depending on the Stand User, can be wielded for good or evil.
The Stand is created from someone's psyche, which includes not only humans but also other living creatures. That individual is referred to as the Stand User. The User then gives their Stand a name and uses it for various purposes.
One of the general rules of stand users is that a stand can interact with a non-stand user. However a normal user can NOT interact with a stand. Another rule is that no one can have more than one stand at a time.
Fighting styles
Also known as sub specs or specs, are another type of damage source for your self, or a bonus by giving more damage, increasing defense buffs, etc. An example of a great spec is boxing, which increases your HP. And has many other moves to damage opponents.
What is a Requiem?
A requiem is an Evolution of a stand, granting them different abilities and granting them immense power and speed. They also grant different abilities based on what the user desires. Such as: if the user wants someone not to reach the truth, something like GER would be created.
But, only people who are deemed worthy by the arrow are allowed to use it. Diavolo couldn't use it due to not having it written in his fate, only Giorno was as it was his fate to wield it. (Meaning KCR IS NOT CANON)
Requiem in Jojo's is an evolved form of stands, which are gained when worthy stand users stab themselves with the Requiem Arrow. If they are not worthy the arrow will simply phase through them. Requiem stands often have Requiem within their title as well as a slight name change. (NOT ALL STANDS HAVE THIS, A GOOD EXAMPLE IS STAR PLATINUM: THE WORLD WHICH IS CONSIDERED A REQUIEM BUT WITHOUT REQUIEM IN THE NAME).
But what exactly is Trello, and why is it such a valuable resource for YBA New Universe players?
Simply put, Trello is a digital storyboard that allows users to create and share boards, lists. Organize and track information. Originally designed for businesses to manage projects. Trello has since become a popular tool for developers. & gamers alike to share information and updates about their projects and games.
Trello board is the only place where you can find official and up-to-date information about YBA New Universe. Because only the game's developers have administrator permissions. They're the only ones who can make changes to the Trello board. Ensuring that the information is accurate and reliable.
Link Trello Games: Sea Piece 2, A Piece, Fruit Warriors, Final Tower Defense, Heavens Arena, Fairy Tail, All Trello Guides here
More Trello Guides