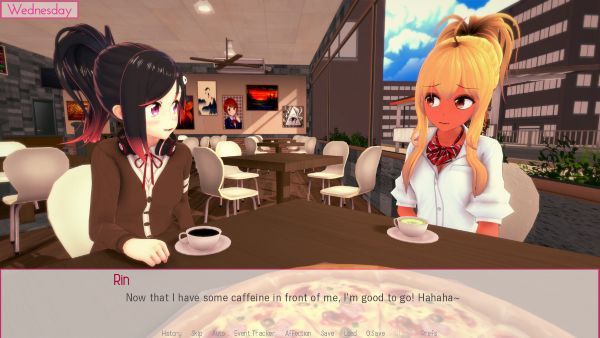 Last Updated on 5 February, 2023
Lessons in Love Cheat Codes – Max the stats of all the characters, skip 100 days, and also reset some key events
Lessons in Love Cheat Codes – How to use Cheats?
You can only use Cheats when you are in your room, because you need to Use the Computer and choose Enter Cheat Code, then just enter the code and press Enter
Lessons in Love Cheat Codes – Full List
So use the computer and use these cheats
goodhomie = undo betraying Rin.
rosebud = increases affection with all girls by 100.
funinthesun = resets the beach event and makes it trigger the next Sunday.
fingeryourniece = resets Ami's events 'No One Can See Us' and 'Important Things' and gives the message "You now have the opportunity to be a better uncle."
iwillalwaysloveyou = increase Ami's LU by 100.
bubblewrapprincess = increase Ayane's LU by 100.
likemotherlikedaughter = increase Makoto's LU by 100.
heartofgold = increase Chika's LU by 100.
atreefallsintheforest = increase Futaba's LU by 100.
supermom = increase Sara's LU by 100.
thouartsick = increase Haruka's LU by 100.
youonlyliveonce = increase Kirin's LU by 100.
seemeafterclass = count Chika's 'Detention' LU event as having triggered.
wheredoesthetimego = 100 Days pass while you sit at the computer
You can use them all twice if you want, but the only cheat code that helps if you use it twice is the last one wheredoesthetimego
Lessons in Love Cheat Codes – Do the cheats help?
Yes, of course, you are not going to need more than LU = 100 or Affection = 100 with any of the girls, and without cheats it will take you like 3 or 4 hours of farming. Also if you skip +100 days, you will trigger most of the main events immediately. And we asume that the reset event cheat codes are going to be useful in the future.
But cheat codes don't unlock everything, even if you max all girls stats and you skip 100 days you still have to unlock their individual events. And to unlock some of those events you need to unlock previously certain girls's events. So cheats help a lot, but to unlock everything you will also need to visit the Walkthrough & Wiki
Are there consequences?
We have tested the codes in Version 0.12.0 Part 2, and there are not consequences. But we don't know if there will be consequences in the future.
We don't think so, because if they have included reset events cheat codes is because they know most of the players are going to need to reset the events.
Other Cheat Codes Guides: