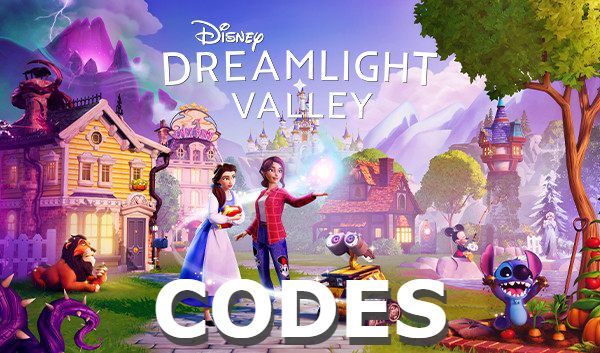 Last Updated on 1 June, 2023
Disney Dreamlight Valley Codes – Gift Code – Game by Nintendo – All the available redeem codes – Redeem these promo codes for Star Coins, Accessories, Furniture, Cosmetics, Skins, and other exclusive rewards
Redeem these promo codes for Star Coins, Accessories, Furniture, Cosmetics, Skins, and other exclusive rewards
Other Disney Dreamlight Valley guides: All Gems Locations, Cooking Recipes, Star Coins, Farming Crops , Get rid of Mushrooms, get Clay, Seaweed, Dream Shards, Ariel, Eric, Anna, Sunstone Fragment, Goofy Stall
Disney Dreamlight Valley Codes – Full List
These are all the valid codes,
FOFSURPRISEKIT – Redeem code for Snowballs x15, Hardwood x15, and Glass x15 (New – Expire July 10)
FOFSUCCESS – Redeem code for Pumpkins x8 (New – Expire July 10)
FOFLOSHARD – Redeem code for Night Shard x5 and Dream Shard x5 (New – Expire July 10)
FOFGLITTER – Redeem code for Moonstone x150 (New – Expire July 10)
FOFCATCHDAY – Redeem code for Anglerfish x5, Fugu x5, and Kingfish x5 (New – Expire July 10)
FOFLOGEMS – Redeem code for Diamond x3, Ruby x3, and Sapphire x3 (New – Expire July 10)
FOFTROPHY – Redeem code for Moonstone x150 (New – Expire July 10)
FOFCRAFTYKIT – Redeem code for Clay x5, Fabric x5, and Cotton x5 (New – Expire July 10)
FOFSOUVENIR – Redeem code for Iron Ingot x5, Gold Ingot x5, and Tinkering Parts x5 (New – Expire July 10)
DREAMLIGHTPARK – Redeem code for a Magical Recycler
CENTENNIAL – Redeem code for Melting Platinum Minnie Ears and 15 Iron Ingots
GPOT-OATO-LDFS-ENNM – Redeem code for Mysterious Golden Potato
We will keep this codes list updated, stay tuned
Disney Dreamlight Valley social media channels, the channels where announce the codes:
Twitter: https://twitter.com/DisneyDLV also check the @DisneyDLV name
TikTok: ??
YouTube: Disney Dreamlight Valley Youtube
Discord: Just, click on link
Instagram: https://www.instagram.com/disneydreamlightvalley/
Facebook: https://www.facebook.com/DisneyDreamlightValley
Web: https://disneydreamlightvalley.com/ or also you can click in the following link
Although you do not need to follow them if you do not want to, we will keep the list updated
Expired Codes
These codes no longer work:
Disney Dreamlight Valley Codes – How to use? How to redeem?
These are the steps to redeem codes:
Launch Disney Dreamlight Valley Codes in your device
Press select button in your remote Console
Go to Settings & tap on redemtion
Enter the codes we provided above in the list.
Press on the 'enter' button and you will be rewarded immediately & Enjoy your free rewards
In case you have any questions, in this video guide you can review how the codes are redeemed
About Disney Dreamlight Valley
Welcome to Dreamlight Valley
Disney Dreamlight Valley is a cross between an adventure game and a life simulation game, where quests, exploration and exciting activities abound with friends from Disney and Pixar, both new and old.
Dreamlight Valley was an idyllic place where Disney and Pixar characters lived in harmony…until the arrival of Oblivion. The thorns of the night grew everywhere and killed the wonderful memories linked to this magical place. With nowhere else to go, the hopeless inhabitants of Dreamlight Valley retreated to the Castle of Dreams, closing its gates behind them.
It's up to you now to discover the stories of this world and bring the magic back to Dreamlight Valley!
Disney Dreamlight Valley will be available beginning September 6, 2022 in early access for players who purchase a Founder's Pack or have an Xbox Game Pass subscription prior to the free-to-play game's launch in 2023.
Create your avatar
Get a first look at the avatar and wardrobe customization features you'll discover in Disney Dreamlight Valley with this free avatar design tool!
Use your unique avatar code in the tool, import your avatar and style of choice into the full Disney Dreamlight Valley experience and get an exclusive cosmetic item!
Other Codes Guides
Also you can check other Code List, if you play any of these games. We recommend you to add in favourites webs (clicking Ctrl + D):