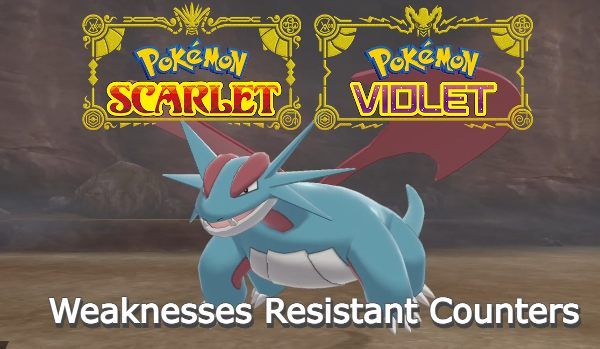 Last Updated on 13 December, 2022
Pokemon Salamence Weaknesses Resistant Counters – Scarlet and Violet – Game by Nintendo – Everything about Pokemon Salamence like Weaknesses Resistant & Counters in Pokemon Scarlet and Violet, all info.
Other Pokemon S&V Guides: Mystery Codes, evolve Chacadet, Treasure Hunt, Day and Night, Sandwich Recipes, Trade Codes, Amulet Coin, Mystery Gift Codes
Pokemon Salamence Weaknesses Resistant Counters – All info
Salamence is a Dragon/Flying-type Pokémon introduced in Generation 3. It is the evolution of Shelgon, from Pokémon Omega Ruby and Pokémon Alpha Sapphire it can mega evolve into Mega Salamence.
A rare Pokémon that, after wishing with all its might to fly, got a winged body by evolving.
Mega Salamence
Starting with Pokémon Omega Ruby and Pokémon Alpha Sapphire and only during battles, Salamence can Mega Evolve into Mega Salamence thanks to the Little Salamence.
His types are maintained and his ability changes to light blue skin. All of his stats are increased, especially his defense.
Salamence Weaknesses
All movements of these types affect Salamence
Salamence Immune
Salamence is immune to these types
Salamence Resistant & Salamence Counters
Salamence resists the following moves and types
Ground
Grass
Water
Fire
Fighting
Bug
More Info & Easy Guide
You can defeat Salamence with any move of the Ice, Dragon, Fairy & Rock types, but if you have Physical Attacks moves, you should concentrate on using them. Due to Salamence's stronger in Special Defense, using Physical Attacks will be significantly more successful.
Ground, Grass, Water, Fire, Fighting & Bug-type Pokemon are those that you should make sure to keep away from any battles with Salamence. Each of them is vulnerable to one or more of Salamence's attacks.
Abo

ut Pokemon S&V
There are many new Pokemon that may be found, caught, and fought against in Pokemon Scarlet and Violet since they provide new features to the game. It can be difficult to tell what type a Pokemon is when you first encounter it in battle, so knowing what moves to use is crucial!
But you can change (if you want) to make it day or night in Pokemon Scarlet and Violet, check links
Pokemon Weakness Scarlet and Violet List
Tyranitar, Hydreigon, Gardevoir, Gallade, Tinkatuff, Tauros, Armarouge, Quaxly, Sprigatito, Delibird, Charcadet, Fuecoco.
You can visit our guide on the Pokemon Type Chart to view every Pokemon's weaknesses, resistant, strengths and counters. The Guide is based in Pokemon Go, but could be useful for you:
Pokemon weaknesses by type and their characteristics